Case Study

Threekit worked with Carpe Diem Beds to develop a custom bed configurator that showcases the many variations of the company's beds, giving customers complete control over designs.
Background
Carpe Diem Beds is a luxury bedmaker originating from Sweden's beautiful west coast. As a leading Swedish luxury bed designer, the company has manufactured handmade bespoke beds for more than 25 years.
"Our goal is to elevate our customers' bedrooms with our superb designs while at the same time giving them the highest quality of sleep with our innovative beds," says Marc Ryning, Carpe Diem Beds' e-commerce manager.
To help achieve this goal, Carpe Diem Beds has developed five unique patents that improve customers' sleep quality and allow them to easily unwind.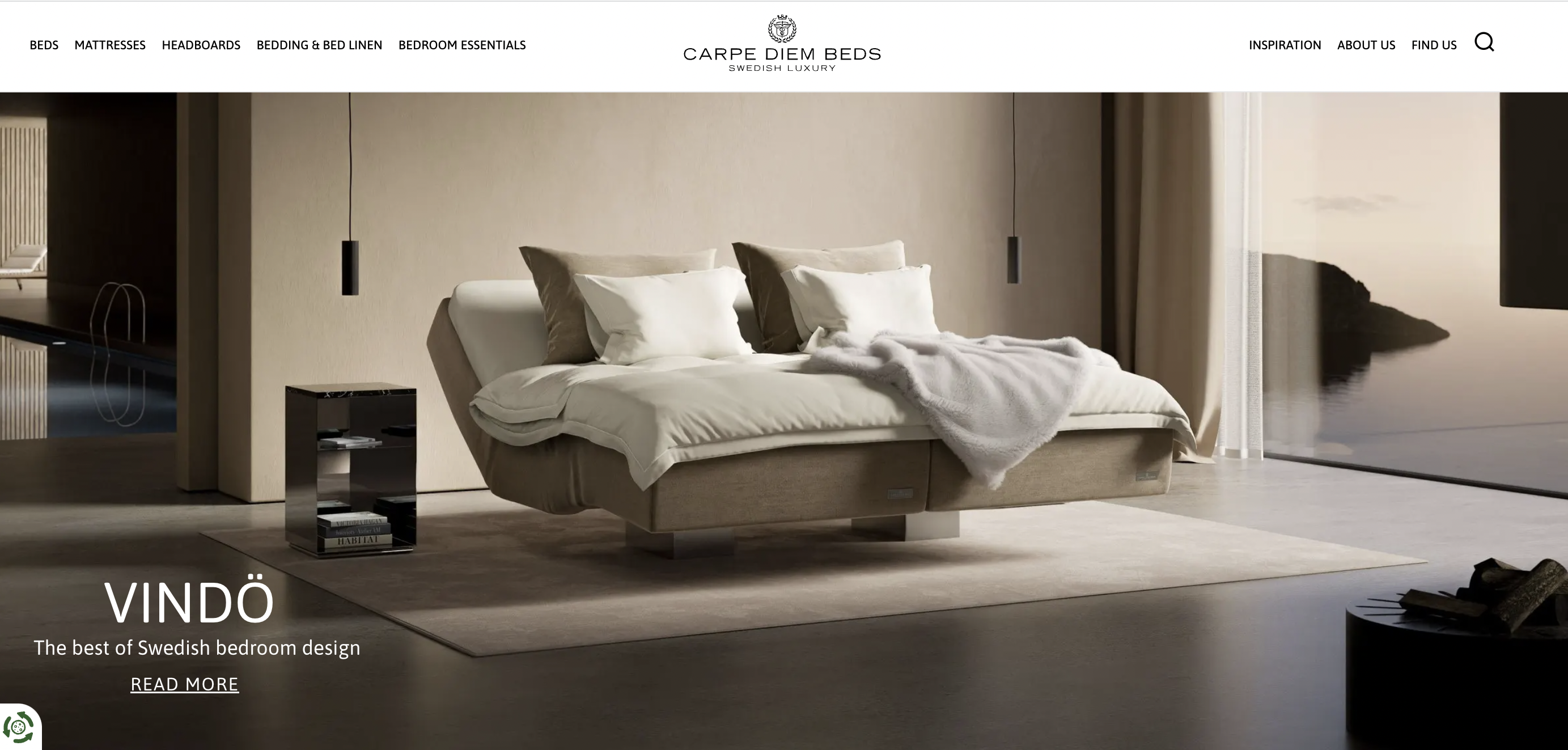 "You have to come down to our stores to try our beds in person—there is nothing like the sensation of trying our beds for the first time: feeling completely weightless, like floating on top of a little cloud," says Marc Ryning. "Visit us online, try our unique bed configurator and design your dream bed."
Carpe Diem Bed's unique spring technology enables these mattresses to fully support the body and its pressure points while facilitating a great sleep experience.
Problem
While Carpe Diem Beds offers a selection of top-quality products, the company struggled to effectively highlight its inventory and configurable bed options online. To remedy this situation, Carpe Diem Beds required a reliable custom product configurator to replicate and complement the in-store experience where beds are fully customizable.
"We know that it is very difficult for customers to envision what a bed could look like given our myriad of options for fabrics, bed legs, headboards, etc., and therefore decided that the 3D tool from Threekit would be a great choice as it enables customers to configure their beds without being in a physical store," says Marc Ryning. "We also want our 3D configurator to act as a service that customers can use to be inspired from and to learn more about our brand and products, and ultimately visit one of our stores to try the beds and products in real life."
To help improve data handling, the company has also turned to inRiver's PIM, which has given Carpe Diem Beds the chance to streamline product data flows and take a more structured approach to data handling and management. In the process, the company has successfully integrated its DAM system to allow for clear workstreams for developing new products and integrating them into online and physical stores. However, Carpe Diem Beds wanted to further enhance its PIM with an added layer to assist with product selection.
Solution
In need of a reliable solution to the company's unique problem, Carpe Diem Beds eventually discovered and turned to Threekit. To optimize the online shopping experience for Carpe Diem Bed's customers, we helped design and develop a comprehensive bed configurator.
Using this configurator, customers can choose from the company's selection of continental, frame and adjustable beds, each of which offers certain advantages. These include their line of Vindö, Sandö, Härmanö, Marstrand, Kornö, Koster, Malö, Saltö and Skaftö beds.
After selecting the right bed model, customers can then use the configurator to select custom sizes, fabrics, colors, legs, headboards, and softness levels.
Users can see the bed model updated in real-time within the configurator with each option selected. They can also zoom in on the model to see it in more detail. To maintain transparency, the pricing for the bed also updates as people choose different options, which prevents customers from encountering unpleasant surprises during the checkout process.
Outcome
Carpe Diem Beds hasn't been able to easily calculate the specific results seen with the introduction of the new configurator, which is largely due to the company's concentration on physical stores and wholesale partners.
"However, we have gotten a lot of positive feedback from customers and sales associates that the 3D configurator is easy to use, inspirational, and works as a great bridge from our online to physical store environment," states Marc Ryning. "We absolutely believe that this type of technology is key to heightening the experience of our brand and for showing customers how much freedom they have in designing their dream bed."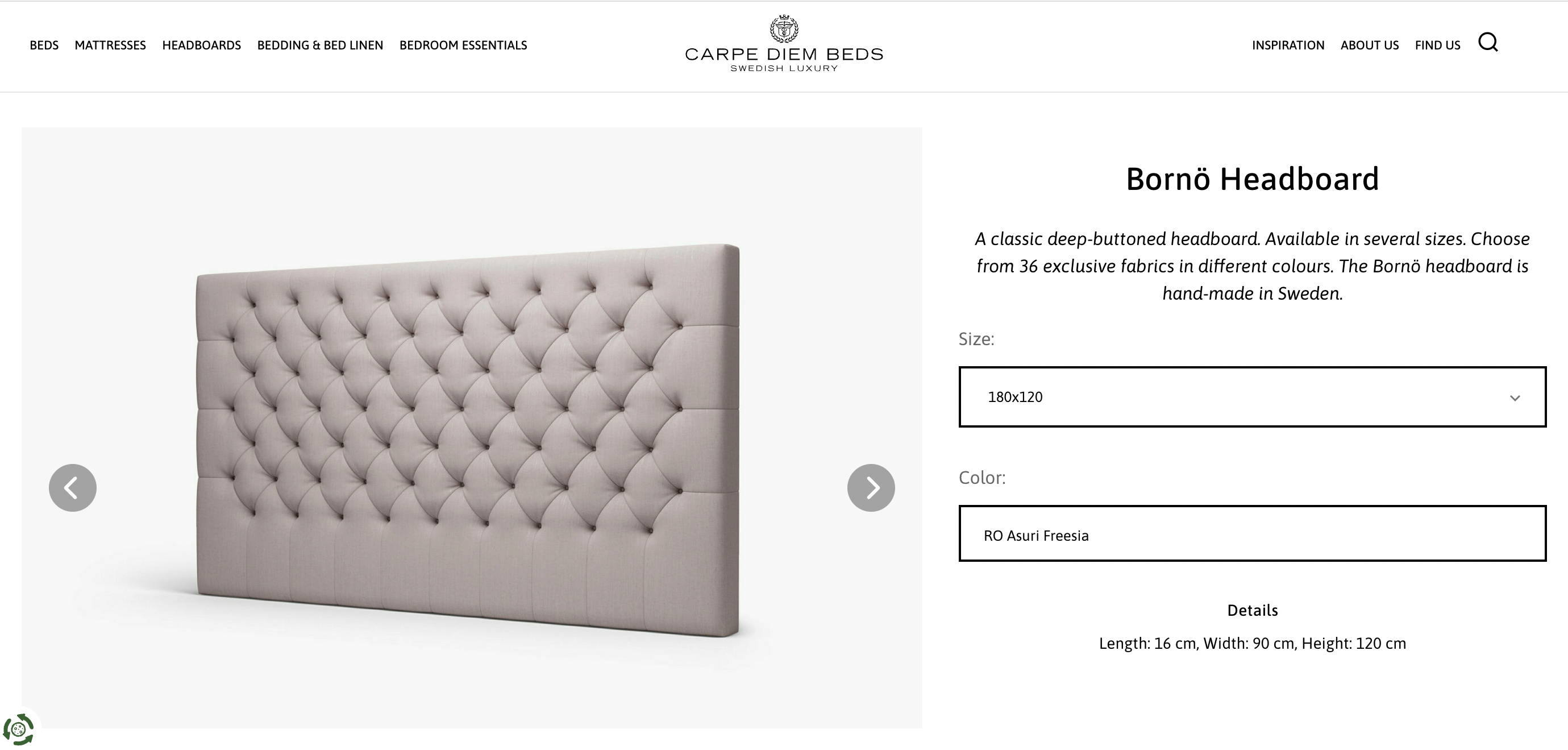 Employees can see that customers often spend a longer time on pages when the 3D configurator is present. The company is also working on UX development to further improve site presentation, with developers adding prompts such as "book a bed consultation" and "find a store," which help make it even easier for customers to complete their orders beyond the configuration process.
Additionally, Carpe Diem Beds intends to further integrate the configuration technology into retail stores, which would enable customers to design their own configurations in-store and checkout via the store's POS. This would increase the efficiency of sales, maximizing convenience for customers and sales representatives alike.
"Our goal is to elevate our customers' bedrooms with our superb designs while at the same time giving them the highest quality of sleep with our innovative beds."

- Marc Ryning, E-commerce Manager Carpe Diem Beds
"We know that it is very difficult for customers to envision what a bed could look like given our myriad of options for fabrics, bed legs, headboards, etc., and therefore decided that the 3D tool from Threekit would be a great choice as it enables customers to configure their beds without being in a physical store."

- Marc Ryning, E-commerce Manager Carpe Diem Beds