Your Guide to ROI in 3D & AR
If everyone had unlimited time and money, pretty much every eCommerce website would have 3D and AR-enabled customer experiences. Why? Because they're cool and the evidence is clear that they improve site performance metrics. So the operative question becomes: are the results worth the cost?
To answer that question, Threekit's Christian Pieper wrote a guide to ROI in 3D & AR applications for commerce called "What can can't 3D & AR do for you?" The guide includes hard data from independent research, describing and quantifying the benefits provided by implementing these technologies. We don't want to spoil anything, but we'll just say this: it's likely you're underestimating their value. An excerpt is published here.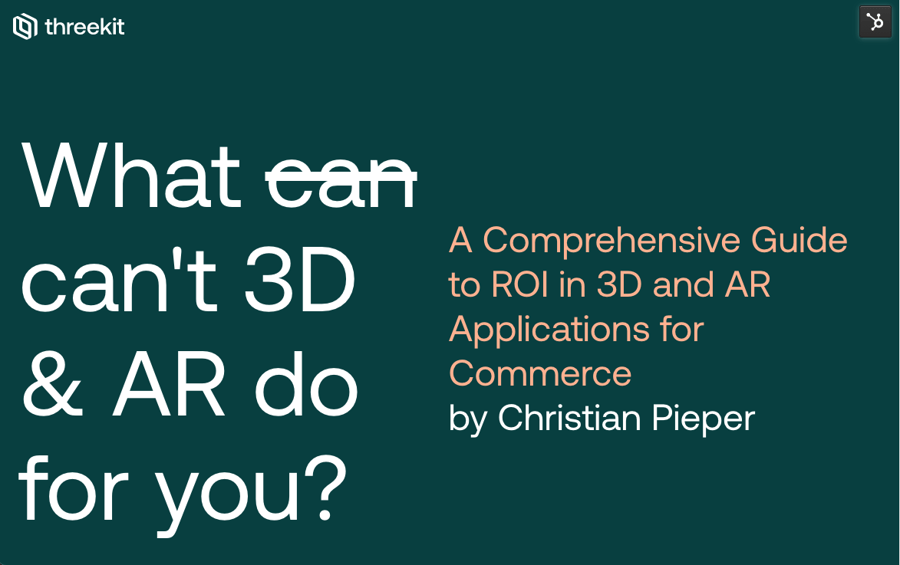 ---
HIGHER CONVERSION RATES

Shopify: 2x More Conversions with 3D & AR

No one knows more about eCommerce methods than Shopify. Across their 1M+ users, they've seen conversions double when products are presented with 3D & AR. Imagine what doubling your conversions on the same clicks could do for your online business.

Why are these applications so powerful? Product visuals are major drivers of online conversion rates (CVR). With 3D modeling and virtual photography, you can move more quickly and affordably to generate high-end visual presentations of your entire product catalog. The configuration experience helps your customers fall in love with their perfect versions of your products, overcoming objections to the purchase.

At Threekit, we've seen dramatic increases in our customers' conversion rates by improving visuals, even without a fully interactive 3D/AR experience.



Customer Results




BostonTec saw a 30% increase in quote requests for their ergonomic workstations after implementing a 3D design tool.
YellowKorner, whom we already mentioned earlier for having a 30% traffic increase, also saw a corresponding 30% increase in CVR. When you gain traffic, while converting more of that traffic, you know you're on the right track.
So, according to Shopify, you can double your conversions by enabling 3D & AR on your eCommerce website. That's huge, and it's also just one of the benefits outlined in this piece. If you'd like to read more, enter your email below and we'll send you a copy of full guide.