Threekit Feature Deep Dive: Interactive Interiors
Here at Threekit, our focus is on creating a superior customer experience, one that evolves with technology while helping our customers sell more of their products. We've always provided innovative ways to configure 2D and 3D models simply, and in real time. Now we've taken that a step further.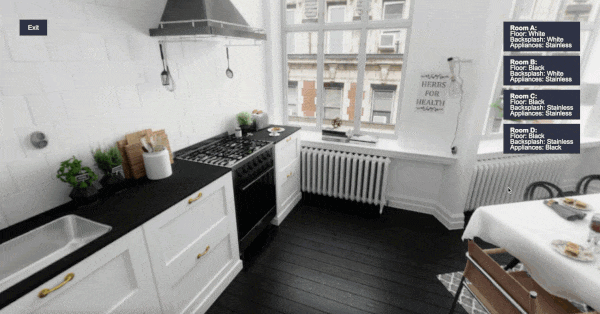 Interactive Interiors combines the realism of virtual photography with multi-product design and room configuration. Customers can personalize a product, then see it within the context of its proposed environment. It's an immersive, 360-degree experience that visualizes an entire interior space so pieces can be personalized for a perfect fit.
Let's look at the benefits of using Interactive Interiors for your next project.
Engage with eye-popping, high-resolution images
With Interactive Interiors, you can import assets as 360-degree images, or update an asset to generate a 360-degree image. These images can be positioned within a panoramic, scannable room of your choice—no 3D artistry or design degree required. Crisp, vivid imagery showcases every detail, ensuring accurate renderings with each configuration.
Showcase products in their natural environment
By crafting a panoramic, immersive room scene, you can see how products will look and work within their actual space. Change a wall color, move furniture, make the room smaller – now keep going! Possibilities become realities when you can validate a design in real space, in real time.
Drive conversion, upsell and cross-sell opportunities
In a traditional product development cycle, imagery is often limited to the product itself. With Interactive Interiors, environments become part of the design, encouraging different combinations and fresh ideas. Does it need to be wider? Perhaps a new pattern? Now you've opened the door to expand the sale with multiple pieces and collections.
Instill confidence to boost sales
Showing products in context, scanning an environment with a product in place, can help identify what works and what doesn't. By moving through various iterations of the product in its environment, you'll reduce any blind spots or issues before they become problems. Feeling confident is essential to making a sale and Interactive Interiors fosters that confidence every step of the way.
Maintain interest and engagement via customer experience
The typical end-user is often overwhelmed with design options. It can be a struggle to keep eyes on your site if you're not immediately engaging with compelling, rewarding content. Interactive Interiors offers a fully immersive experience, where you can spend time finessing the details that make your product amazing. It's this type of experience that will keep customers returning again and again.
We built Interactive Interiors to serve a range of industries but it's particularly useful for furniture companies, architectural firms and material suppliers who carry high-ticket, high-consideration pieces and collections. Whether it's a kitchen appliance or an ottoman, Interactive Interiors can bring a new dimension to your product sales. Start seeing your designs in context, we're ready when you are.
For more information, please visit www.threekit.com