In Part One of "The Visual Economy," we dove into how our innate visual tendencies have been made more apparent with the advent social media and which brands have thrived in this new world. In Part Two, we'll look at why it pays to meet consumers' visual expectations and how brands might go about tackling this challenge.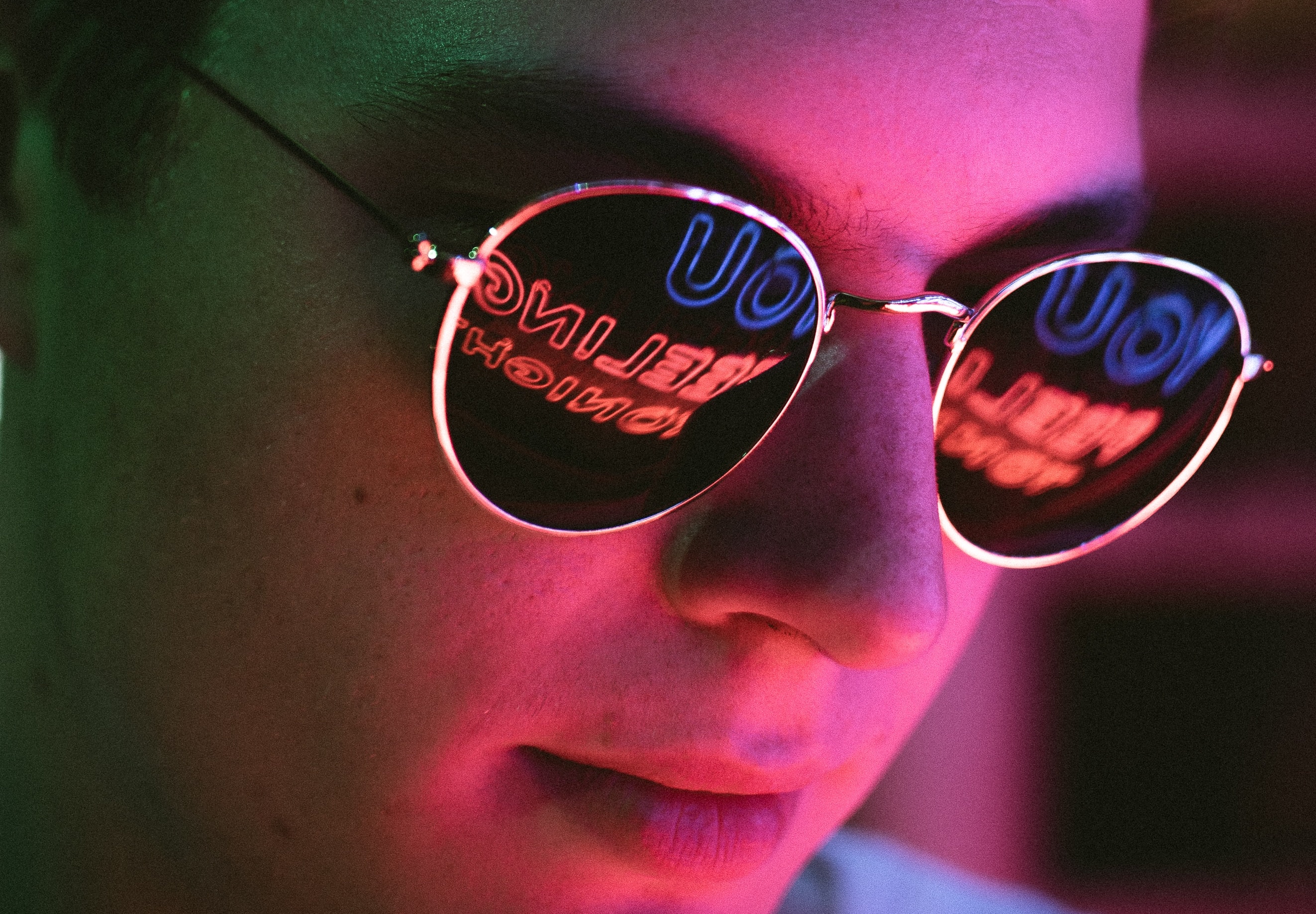 Part 2: What It Takes to Win
In the visual economy, "meeting expectations" sits at the base of the selling hierarchy—the ultimate goal is to get to the top of the pyramid and really "wow" potential buyers. But before brands start that climb, they need to understand what expectations look like and how far they have to go. And while this should be assessed on a case-by-case basis, the general statistics suggest the answer is "pretty far."
Consumers are willing to cop to the fact that they have higher expectations than ever, but they don't let brands off the hook—51% say brands fail to meet their expectations.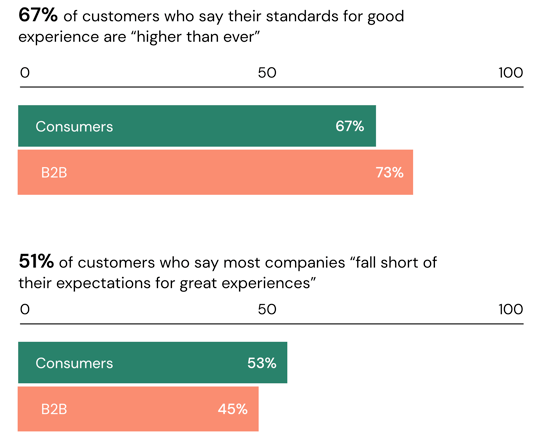 And proliferation of alternatives, both offline and online, means customer don't hesitate to look elsewhere to buy. Fifty-seven percent of customers have "stopped buying from a company because a competitor provided a better experience." Note the wording there. Customers don't just opt out of a vendor when a particular purchase doesn't meet their standards—they stop buying from that vendor altogether. The stakes? Disappoint them once, lose them forever.
The story is almost identical on the B2B side. 82% of business buyers "want the same experience as when they're buying for themselves." A handy way to characterize this is that "shoppers are becoming their own salespeople." They gather information at their own pace, filling in the blanks with preferred channels and sources.
---
57% of customers have "stopped buying from a company because a competitor provided a better experience."
---
In most cases, even B2B buyers making expensive, complicated purchases don't contact a sales person until they've made the decision to purchase. Additionally:
56% of the test subjects' first actions upon arriving at a new product page was to begin exploring the product images, before reading titles, descriptions, or scrolling down the page to get a more comprehensive overview.
No matter the nature of the purchase, businesses need to provide a better visual experience than ever, and they have work to do to get there.
What "Great Visual Experience" Looks Like
When it comes to product visuals, the first question people often consider is—"how many is enough?"
Consider our example from Part 1—the one of the fellow commuter scrolling endlessly through his social feed. How many Instagram images could he view in a 30-minute sitting? 50? 100? 200 even? It's reasonable to think in those figures. And what that means for brands' social media feeds and product pages is that quantity matters.
Andrew Lipsman, a principle analyst for eMarketer, summarized how product images help guard consumers against risk:
"Shoppers once resisted buying products like apparel online because they couldn't touch, feel and try on the products, and while they are much more receptive to this dynamic, the risk of returns still looms large. Additional product imagery helps shoppers get a better sense of the product and reduce their perceived risk, so they can feel more confident in their purchase."
Today, consumers expect upwards of eight product images per page. This doesn't sound too astounding until you consider that back in 2016, they expected only three. Considering the explosive increase, one can't help but wonder how many it will be three years from now.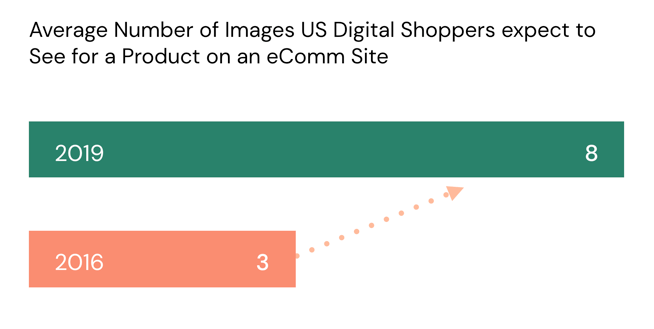 How are brands doing against this benchmark? Okay, quick disclaimer: We did not conduct a comprehensive audit of every product page on the web to determine the "average number of product images per page." And the truth is, results vary brand to brand, industry to industry.
But one data point intrigued us—Amazon only allows vendors to feature 6 images per product.
If the world's #1 eCommerce destination isn't routinely meeting visual expectations, it suggests that many retailers are naïve to what customers need to feel confident in their purchase.
It's also safe to say that these vendors are leaving money on the table. A 2018 eBay study showed a clear correlation between an increase in the number of product images and an increase in profit across categories.
MORE IMAGES=MORE PROFIT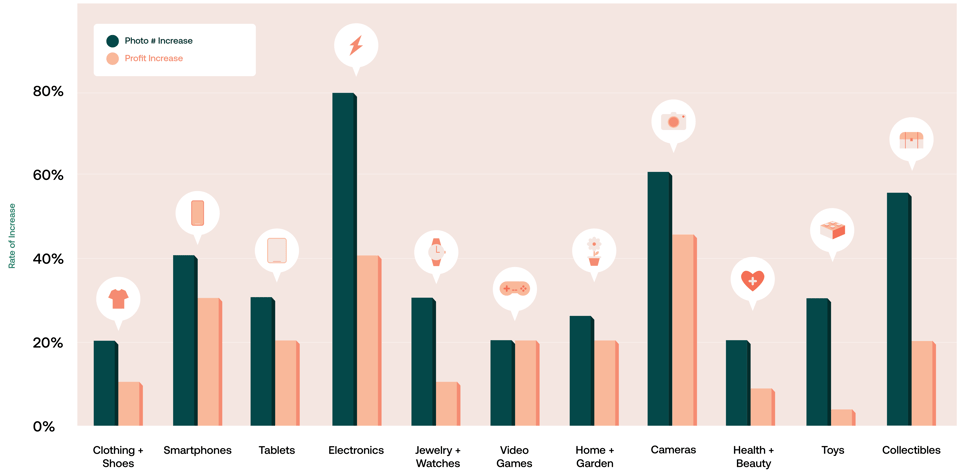 If simply meeting customer expectations doesn't compel brands to change, missed sales certainly should.
But number of images on its own is just a part of the story. It's also how you use each image to present a faithful representation of the product. Variety is essential and it's helpful to think about it by "category" of product shot. Check out our handy chart below for guidance. (And if you want even deeper insight on how to think about product photography, we wrote an entire eBook on that very topic.)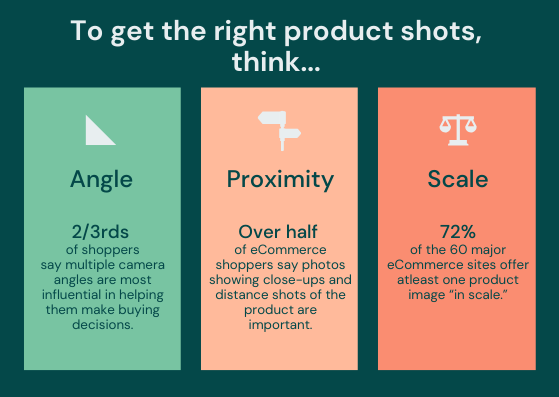 When it All Adds Up
Understanding consumer expectations is essential, but when you turn your focus to the cumulative implications, it can be overwhelming.
Consider the hypothetical example of a furniture brand that sells 1,000 products. Let's say that each of those SKU's has customizable features—different fabrics, different finishes, different leg styles and so forth. Now, take into account how customers want to see 8 images of each of those product combinations. It doesn't take a math whiz to run the numbers and foresee logistical complications in attempting to achieve this. In cases like these, most brands just settle for featuring a fraction of their portfolio on their site and in marketing materials.
---
Virtual photography can enable brands to represent 100% of their product portfolio on their site. [Click to Tweet]
---
What those brands may not know is that advances in visual technology can enable 100% product representation. Virtual photography, a method of creating photorealistic images via 3D model instead of traditional photography, enables unprecedented scale and photo variety. One single digital asset can be rendered in infinite ways and in a fraction of the time of a photo shoot. And the final product is almost indistinguishable from traditional photography. It's even possible to set these photorealistic images in different backgrounds. For a brand with a sizable product portfolio, it could be the only route to actually meeting customer expectations.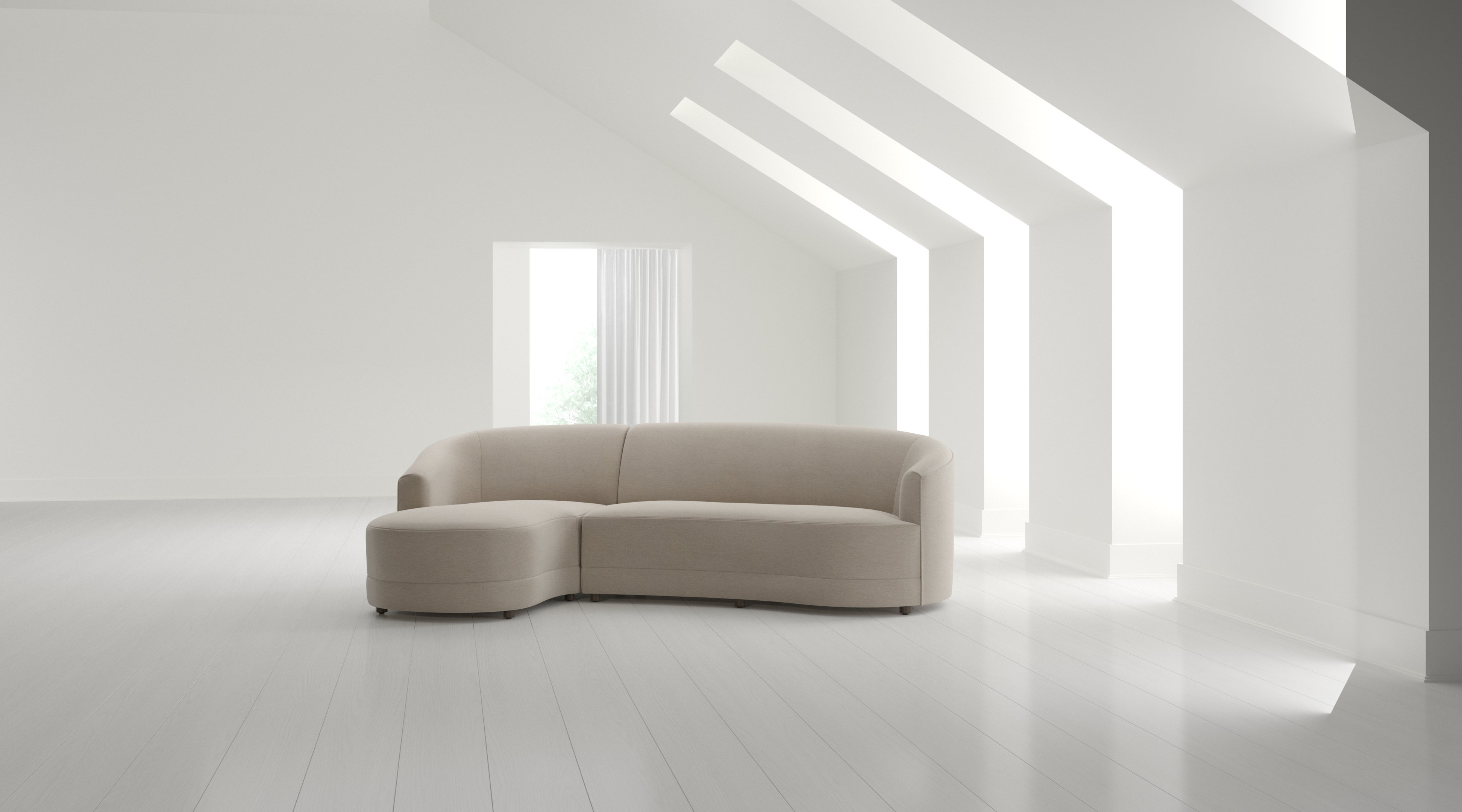 A 2D Photorealistic Image
3D and Augmented Reality: The Future is Now
While brick and mortar shopping hasn't gone the way of the dodo, shoppers, particularly younger shoppers, prefer to make purchases online. A 2018 study by Marketing Dive showed that 75% of Gen Z shoppers (those between the ages of 18 and 25) turn to eCommerce to make most purchases. However, the same study provides interesting paradox—of those same Gen Z shoppers, 65% prefer to "touch and feel products before making a purchase." [Click to Tweet]
What to make of this seeming conflict in preferences? That it's likely on those doing the selling to create "near lifelike" eCommerce experiences.
Online 3D configurators are one way of doing so. They allow buyers to zoom in, spin and add features to products in real-time. As customers demand personalization and indicate that they are willing to pay up to 20% more to get it, putting a 3D configurator on a brand's website seems like an investment worth making. Particularly as some brands have seen a 30% increase in conversion and a 50% reduction in returns by implementing interactive 3D visuals.
---
Customers will pay up to 20% more for product customization.
---
Shoppers are also keen to put these 3D products in their own space using augmented reality. 71.5% say that AR is the "future technology they are most eager to use." The good news is, it's not actually a "future technology" at all. AR is readily available for brands that want to provide best-in-class experiences. In fact, if you are reading this on an iPhone, you can play around with one of Threekit's AR executions by going to this link—put an espresso machine or a grill in your space right now! (Again, this will only work on an iPhone.)
Of course, on top of being just plain fun, augmented reality is best way of driving buyer confidence, especially if size and space are considerations. 22 percent of returns are due to the product appearance being different than what the website displayed. [Click to Tweet] 3D and AR are virtual fail-safes against this issue.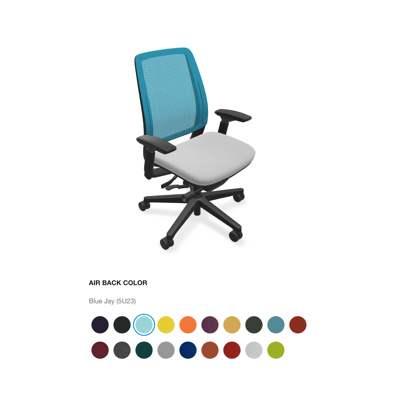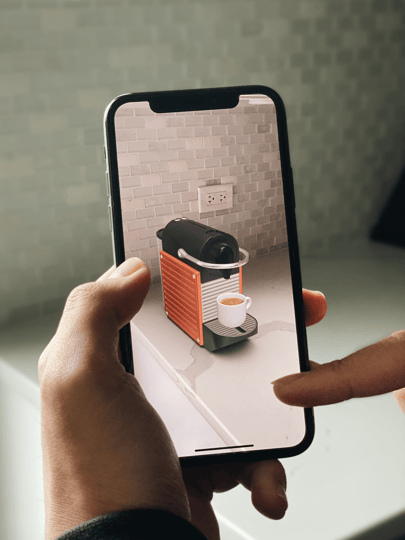 3D configurator and augmented reality feature
Winning in the Visual Economy
The first step in any major change is acknowledging where you stand today. Many brands simply don't grasp just how influential the visual experience is and that they probably aren't doing it well enough to satisfy the expectations of today's fickle consumer. So, if you're reading this, congratulations…you are a step ahead of that competition!
While doing business in the visual economy has raised customer standards, it also presents unprecedented opportunity for brands, even those in their nascent stages, to compete on the basis of the experience they provide. Almost every brand could benefit by upgrading to virtual photography, interactive 3D or augmented reality capabilities (depending on what makes sense with their products.)
Going to great lengths is worth it only if it makes a material difference in conversion. Research suggests that when it comes to visuals, this is the case. And this investment can start a kind of virtuous cycle—brands can invest in better and better experiences that keep customers coming back again and again.
Imagine the impact if all brands strived for a world where customers have incredible visual product interactions all the time. Those willing to commit to that goal will undoubtably come out ahead in the visual economy.
---
Threekit is product visualization software that creates photorealistic images, interactive 3D and augmented reality experiences that help businesses sell more. To learn more, please schedule some time with one of our teammates.
Article Categories: product experience, how to improve product visuals, visual economy