Product Photography vs. 3D Virtual Photography
The end results of traditional product photography and virtual photography are, well, virtually the same: a high volume of high-quality images.
The process of each photography method, however, looks very different. One requires a number of physical resources, such as studio space, equipment, photographers and product inventory; the other takes place 100 percent digitally. Here, we'll compare the inputs and outputs of both types of photography.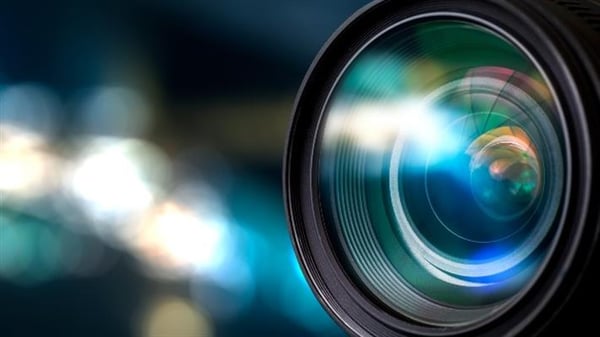 Traditional Product Photography vs. Virtual Photography: An Overview
Several key resources go into a photography project of either type: tools and equipment, people, special skills, time, and cost. Here's a comparison of how those resources break down.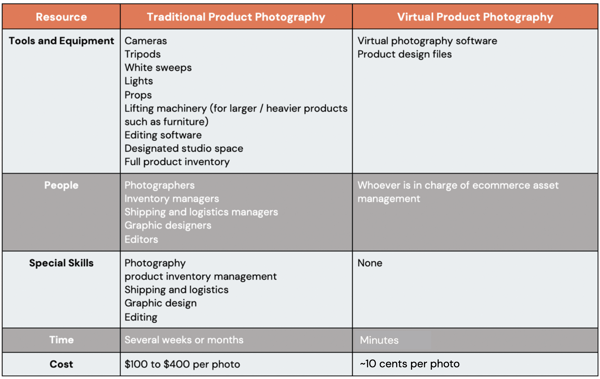 In short, virtual photography (sometimes referred to as 3D product photography) requires fewer resources than traditional photography because its software does most of the heavy lifting. Below, we'll dive into how a digital platform is capable of replicating the physical process.
Traditional Product Photography vs. 3D Virtual Photography: The Step-by-Step Process
Traditional Product Photography
1: Organize and ship the entire product inventory. The first step of a retail photo shoot, whether it's in house or outsourced to a professional photography agency, is to prepare and ship product inventory.
This is a sizable undertaking. If you need to photograph thousands of items, you must invest in, and recruit people to oversee, the transportation of products to and from the photography site, which is sometimes thousands of miles away. There's a lot that can go wrong in shipment, too – a scratched or damaged product won't be fit for a product photo.
2: Set up the photo studio. Once the products are photo-ready on-site, a professional photo shoot requires a long list of technical equipment to get the final image just right. That includes cameras, lenses, tripods, white sweeps, lights, props, lifting machinery for heavier products such as furniture, designated studio space, and the full product inventory.
3: Edit images in post-production. After the photo shoot, you may still need to edit a number of product images to get them ready for the website. Elements that constitute a high-quality product image like even lighting, white background, and consistent colors often must get corrected in the editing process.
To execute all of these steps and ensure standards across the board, retailers need photographers, inventory managers, shipping and logistics managers, graphic designers, and editors, among other specialists. All of these people are experts, meaning it's pretty difficult to DIY one or all steps of the traditional photography process and still get beautiful product images.
Because this work relies on professional equipment and the time and skills of professionals, traditional product photography can be costly. The total price of a photography project involves expenses for everything explained above, and generally comes out to about $100 to $400 per photo.
3D Virtual Photography
1: Generate images from product design files. Once you have access to virtual photography software like Threekit's, you'll start by collecting design files of products, which can be product sketches, photos, samples, or existing CAD files.
You'll then plug these digital assets into the platform to generate tens of thousands of 2D photorealistic product images. The software uses these files to build models and incorporates shadow, color, and texture to bring the photos to life.
2: Customize or reconfigure product images whenever. Once you have your images, the virtual photography software will take care of all the editing and fine-tuning work. You can then customize or reconfigure images any time your inventory changes with product updates like new colors or materials – no redos (or reshoots) necessary.
3: Integrate with eCommerce platforms. Threekit allows you to instantly integrate product images with eCommerce platforms like Shopify and Magento to get images ready for the website.
Doing all of this on a virtual photography platform requires no special skills or training, which means that you won't need anyone except your existing eCommerce or marketing team to oversee the creation of your images.
The time, resources, and energy saved by entirely forgoing the physical aspect of a photo shoot means that, for one, you'll save a lot of money: on average, a virtual photo costs only 1¢ per photo, compared to $100 to $400 for a traditional photo.
Second, your images are adaptable to your fluid inventory and changing product customizations. Whereas traditional photography is limited to a fixed set of physical products, virtual photography is limitless: one product design file can become infinite virtual configurations of the item.
Traditional Product Photography vs. 3D Virtual Photography, Side by Side
With virtual photography, you can generate high-resolution 2D images from any angle you want and adjust lighting, backgrounds, and reflections in real time.
Back to the assertion that virtual photos and traditional photos look the same, see for yourself: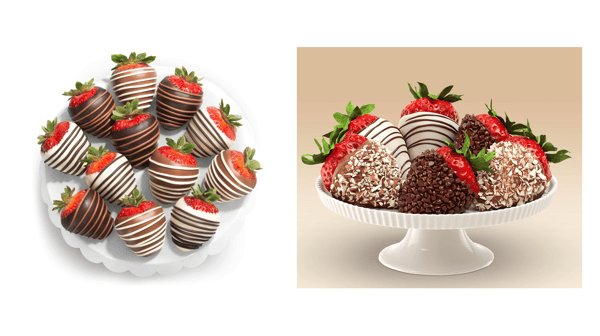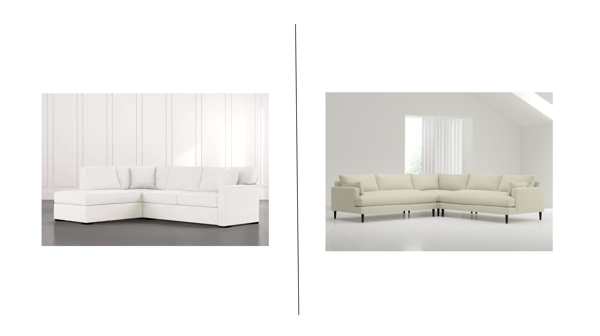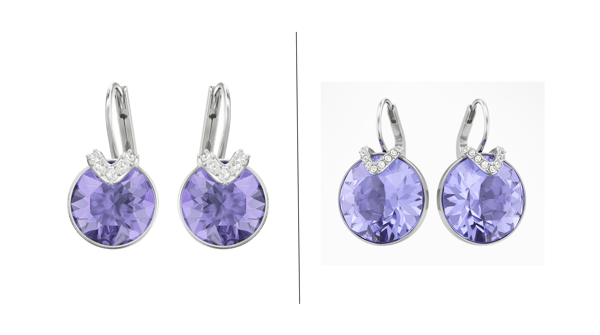 Really curious about which is which? Reach out to us here, and we'll give you the answers.
With 3D Virtual Photography, Fewer Resources Produce the Same Assets
3D virtual photography (at Threekit, we call it Virtual Photographer) is faster, more cost-effective, and far less labor-intensive than traditional product photography. And the final results are pretty impossible to tell apart. Find out how you can leverage virtual photography to get all the beautiful product images you need using only a computer.