How a Shoe Configurator Recreates an In-Store Shoe Shopping Experience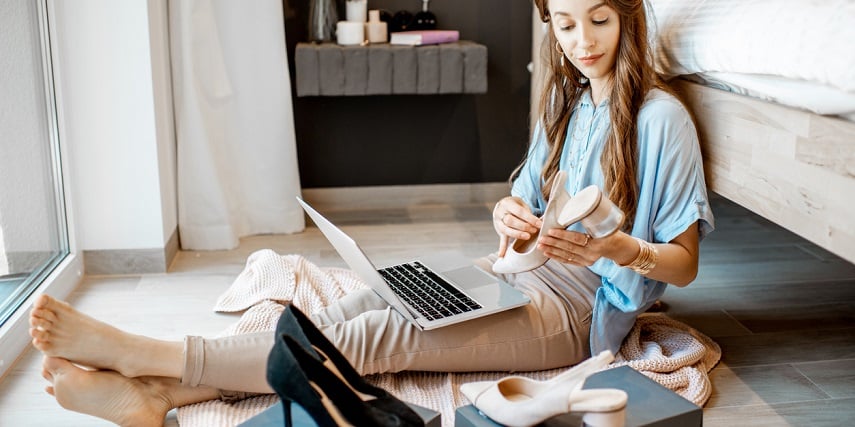 Much of the sensation of in-store shoe shopping is lost in the eCommerce experience. But there is an innovative tool that is changing this: the shoe configurator.
With the help of a shoe configurator, retailers can effectively replicate the in-store experience by giving customers a hands-on shoe design tool. It allows shoppers to fit and get a good feel for their shoes before buying them.
As a result, businesses can see a dramatic increase in sales and reduced product returns. Why? Because people know exactly what they're getting with their online orders.
Here are two ways a shoe configurator can replicate in-store shopping streamline the shoe shopping experience for your shoppers at home.
1. Show Custom Shoe Designs From Every Angle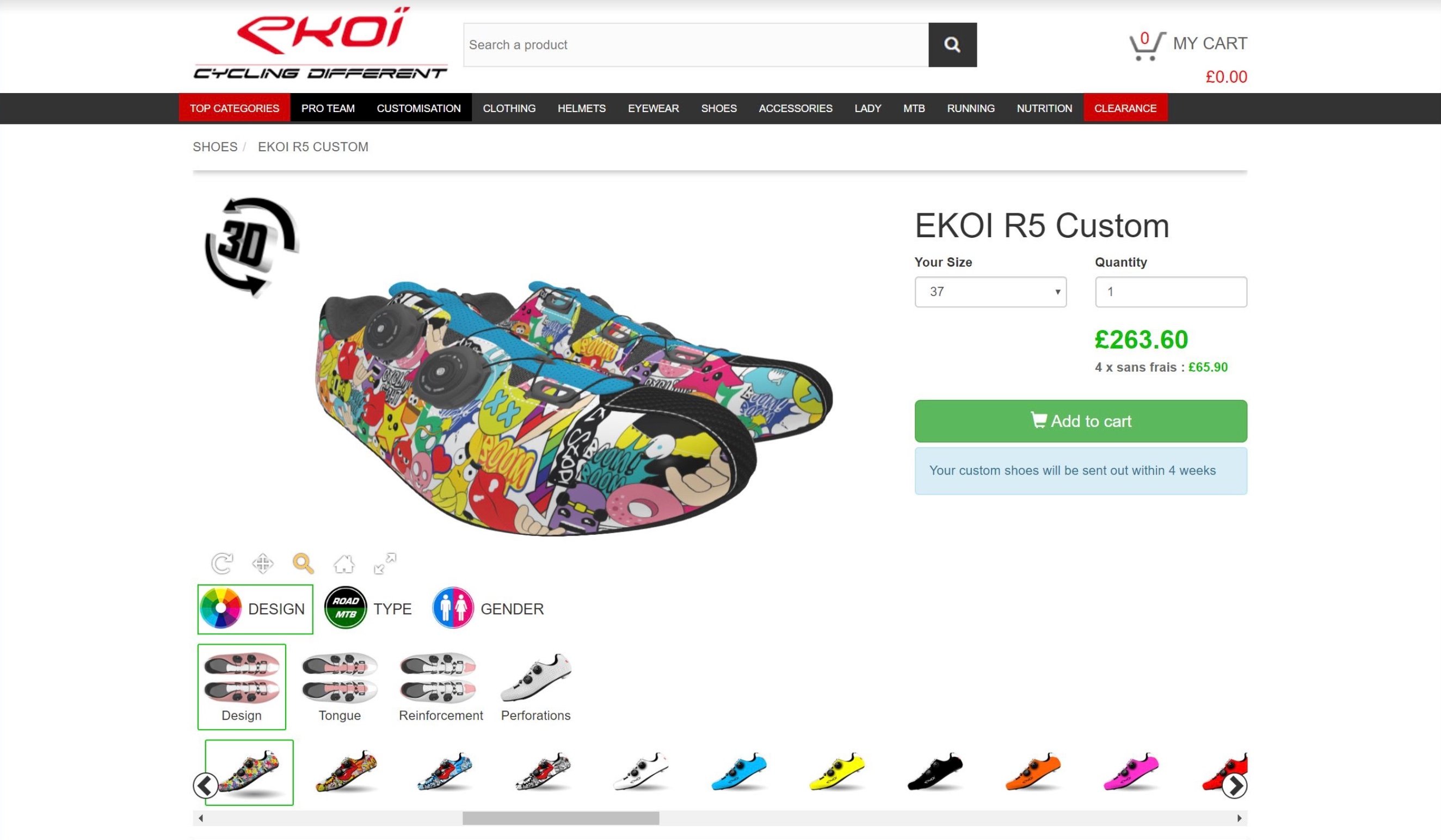 Through the use of 3D product images and 360-degree views, customers can freely explore their shoes up close on product pages. While high-resolution 2D images might be able to capture shoe designs to a limited degree, customers prefer 3D interaction.
Businesses have seen as much as a 40% increase in conversions by offering interactive 3D. Also, 82% of visitors on product pages will activate a 3D view if one is available. Adding helpful, interactive tools will increase visit duration and brand familiarity.
Major shoe brands like Adidas and Nike have already integrated shoe configurators into their online experiences with great success. Over the years, they've developed the ideal configurator after iterations such as MiAdidas, which was eventually discontinued.
Today, customers can use even better tools such as the Nike By You customization platform. It allows users to easily customize just about every part of their shoes.
Members can even create fully custom designs named after them, turning themselves into fashion designers. Shoppers can design their own Nike Air, Air Max, or Air Zoom-type shoes, with the ability to choose custom colors for midsoles, outsoles, heels, laces, and tongues.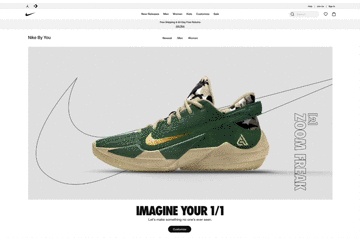 They can also add custom text to the tongue label, such as a name and a jersey number. The customizer also features 3D views that people can rotate and zoom in on to see how their shoes would look.
Not only is this fun, but customers have a better idea of what they're getting. Enabling people to customize and view their shoes through a shoe configurator ultimately makes them more confident in their purchases.
If people know the shoe's look and feel before beginning the checkout process, they'll also likely remain happier with their purchases. 3D images and 360-degree views can reduce returns by up to 35%.
Show Pricing in Real Time
Another benefit of a shoe configurator that can drive sales is transparent pricing. In addition to custom designs, customers can see the price of their custom options reflected in the overall cost of the shoe at each step. They'll know precisely how much they're spending on their shoe before heading to the checkout page.
To learn about Threekit's shoe configurator and how it can improve the online shopping experience, click here.
2. Use Augmented Reality to Bring the Shoe Store to Customers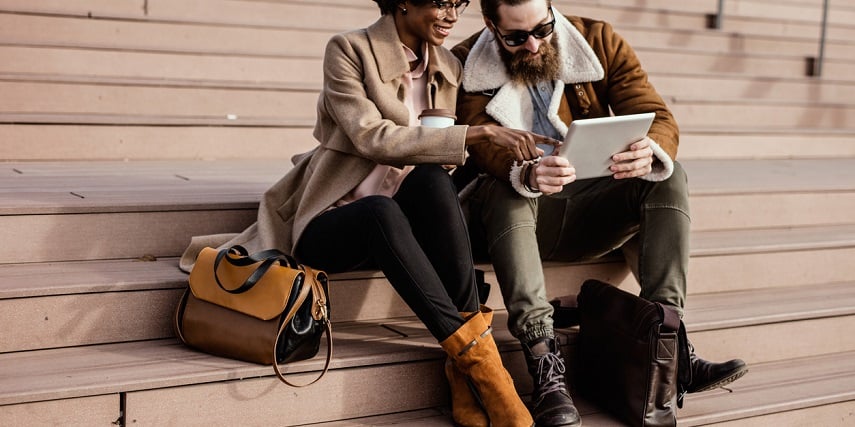 A shoe configurator alone can help replicate the experience of looking at a shoe design in person. But augmented reality (AR) can take things to a whole new level.
Through AR technology, customers can use their mobile devices to overlay their custom shoe designs in a real-world space. This can enable them to actually see the model in person and even "try on" their shoes before buying.
This further instills confidence in shoppers and essentially puts the shoe store in their homes. It will also make you more popular among shoppers, as 61% of consumers say they prefer retailers that offer AR experiences.
There are a couple of ways to use AR to turn customers' homes into their own shoe stores:
Make It Easy to Size a Shoe
When people shop for a shoe, they may want to get a measurement before buying. In a shoe store, this process is a physical, hands-on experience.
You can easily translate this experience online. With an AR app and a shoe configurator, customers can determine their shoe size using their mobile devices, which could then connect to the configurator to ensure their shoe design is the right size.
This eliminates the need for a size guide and further streamlines the buying process.
Allow Customers to Try on Their Shoes
AR also allows customers to make sure their shoes are the right fit and look by giving them the chance to "wear" them.
A shoe design on its own may look great, but customers may want to know if the shoe matches existing outfits or looks good on their feet. AR can overlay 3D models on their feet.
Whether they're designing running shoes, high tops, slip-ons, or other shoes, customers will be able to confirm that the shoe is just right for them. This helps fully personalize each customer's shoe buying experience. It can help make sure they don't abandon their shopping cart or send their shoes in for a free return.
Maintain the In-Store Shopping Experience With a Reliable Shoe Configurator
All of these benefits make it important to integrate a shoe configurator into your store's eCommerce experience. Doing so can translate the whole in-store experience online. This will differentiate you from less innovative competitors and make you appealing to more customers.
For a great way to optimize the online shoe shopping experience, consider implementing Threekit's unique solution. Through virtual photography, we can help create detailed 3D models of your shoes that customers can explore using a 3D product configurator tool.
Then you can place these assets on your product pages through nearly any eCommerce platform. You can also harness the power of AR technology to allow customers to see their shoes in person with realistic models — without the need for a separate app.
If you want to find out more about how Threekit can revamp your online shoe store, connect with us today. We'll get you started on the perfect solution for your business so you can engage with shoppers during every step of the shoe-buying process.