How B2B Businesses Can Leverage 3D Configuration and Augmented Reality
This post is part of our Threekit Webinar Series, a blog series where we recount the most pertinent takeaways from the Threekit insiders and guest experts who are thought leaders in the 3D and augmented reality space.
The digital transformation has affected every industry in the world, and not just on the B2C side. The B2B category has just as much change and therefore need to adapt just as quickly. Luckily, there are 3D configuration and augmented reality (AR) services that make adapting as easy as possible. One example is Threekit.
Recently, Hilary Murdock, Threekit Lead Product Marketer at Threekit, chatted with Katy Collins, Threekit Account Executive, about what B2B businesses can do to leverage the latest visual technology in the current marketplace. Here are a few key takeaways from that conversation.
Watch the webinar here.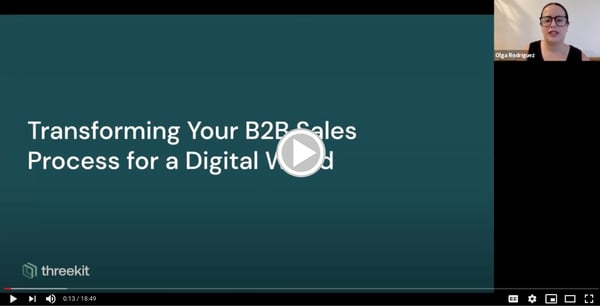 The "Traditional" B2B Sales Process
Let's start by agreeing on the old way of doing things. Traditionally, B2B sales have depended on salespeople meeting with potential clients in-person. In the first step, customers would reach out to a handful of sales representatives who would provide quotes based on specs and needs assessments. From there, the sales reps would configure a solution and come back with a quote. These sales representatives would typically put in extra hours customizing these quotes to meet their prospects' unique needs.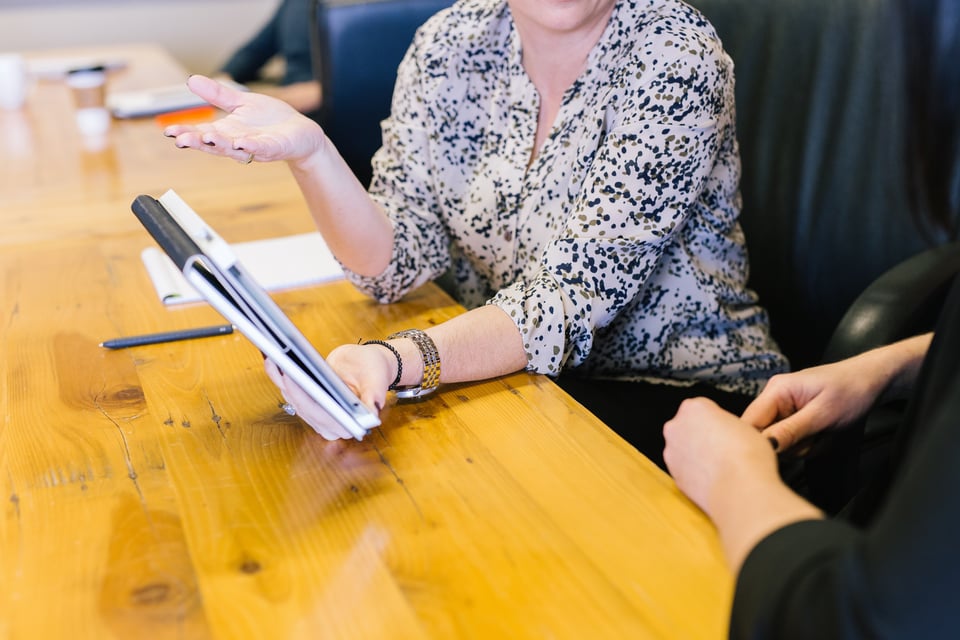 Finally, a customer would become a buyer when they selected a vendor and the sales process would begin. The first step involved revisions and negotiations between the two parties until they struck a deal and signed. After all that conversation and back-and-forth, the project would begin. Needless to say, that's more than enough time and energy to take the wind out of a hungry customer's sales.
The New Way of Doing Things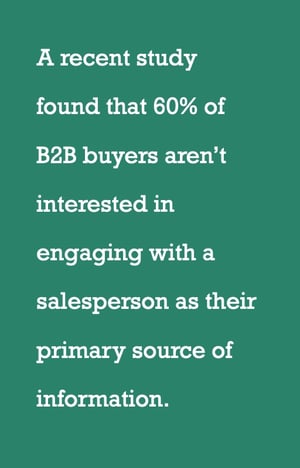 Today, the B2B sales process is much faster and puts the customer in the driver's seat. The digital space has made a self-guided customer journey possible in the B2B space, much like it is for B2C customers. A recent study found that 60% of B2B buyers aren't interested in engaging with a salesperson as their primary source of information. In fact, most B2B buyers make it two thirds of the way through their journey before even contacting the vendor. Nothing against salespeople — these are just the facts.
How to Engage?
So, we've established that B2B buyers would prefer to hold off on the meetings. How, then, does a B2B company handle highly complex or configurable sales? In the past, salespeople have been necessary for product demos and explanations. Well, the same digital solution that gave buyers the power to pass on meetings can guide toward connecting with a B2B company.
The Threekit Solution
Working with a partner to produce high-quality 3D product configurators and AR experiences can help buyers sell themselves on your company. Customers feel empowered when they can explore their options on their own. When you provide visual configuration options, you're combining products, choice, attributes, and images directly within quotes making for a more streamlined transaction. When they like what they see and feel in control, they're more likely to get in touch. Threekit delivers high-quality configured products visuals automatically, which the customer can view in real-time while they browse. Threekit also makes these solutions turnkey for businesses, providing seamless integration with CPQ or ERP systems that work with existing tech stacks.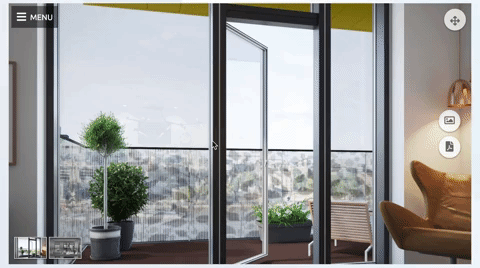 Sapphire is a premier balcony manufacturer in the UK. They provide built-to-spec balconies to architects and wanted to cut down on order times while empowering customers to visualize their balconies right online. Additional goals included increasing website traffic, order count, and overall brand awareness. This was a perfect opportunity for Threekit to deliver the right solution. They helped create full 3D balcony models, which enabled users to try out various shapes, colors, and sizes in real time. They could also add accessories and other features to get a crystal-clear look at how their choices might affect the design.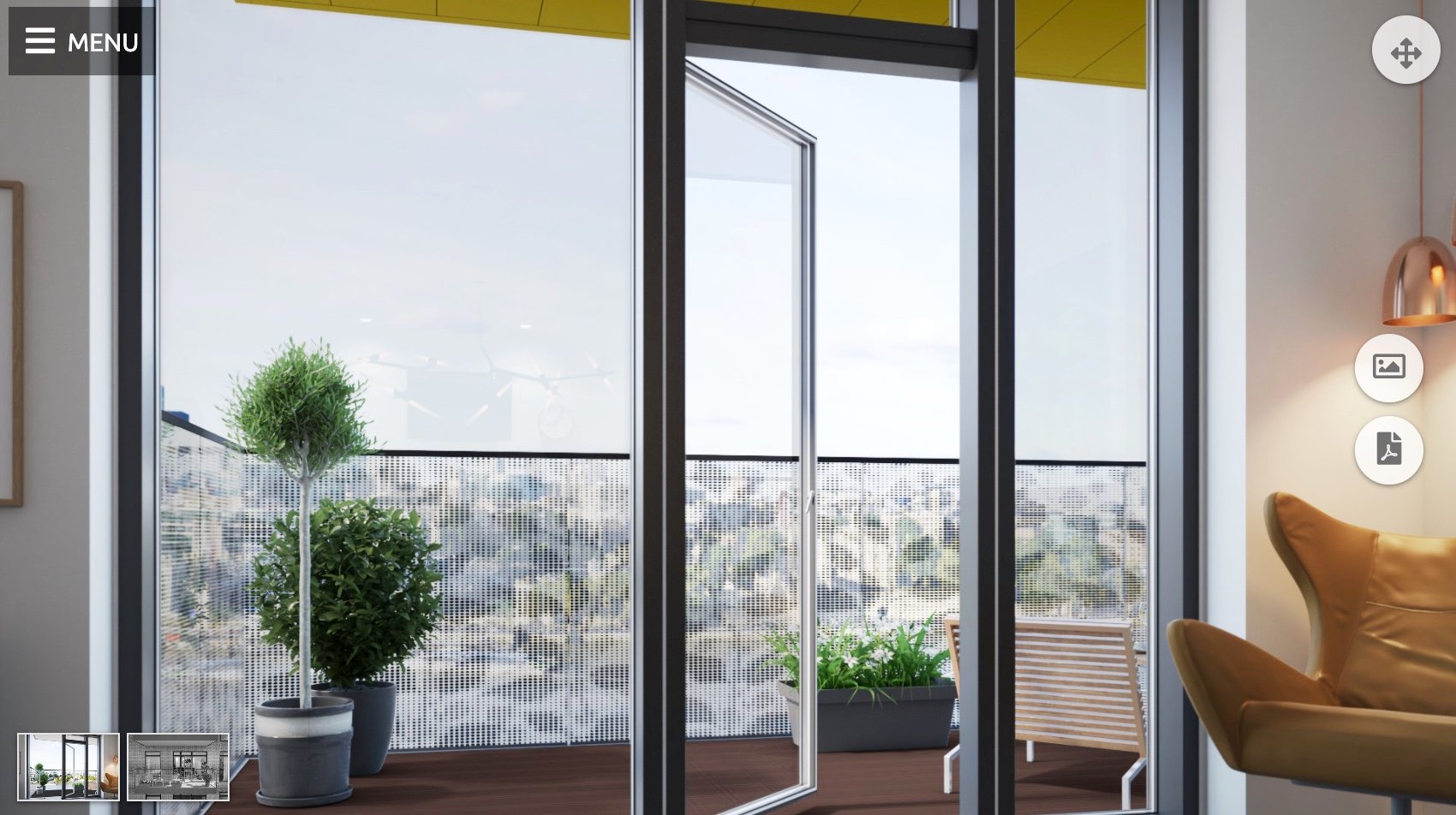 This specific experience even let users test out how their custom 3D balcony would appear from inside, looking out. Sapphire offers a wealth of permutations for each of their products—far too many to cover in a traditional in-person sales meeting. In the end, designers and architects could download the entire proposal to present to their clients.
This is just one of many case uses in which Threekit helped B2B organizations empower potential clients with 3D configurators and AR experiences. The team at Threekit is always working to stay ahead of the curve in the eCommerce marketplace, so they can keep their clients there as well. If you're ready give your potential customers the modern sales experience they want, get in touch with us today for a consultation or demo.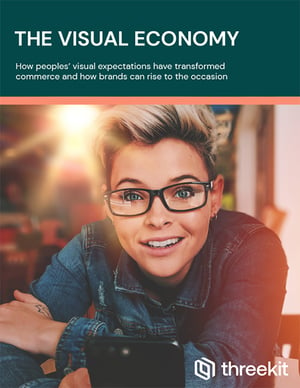 The Visual Economy eBook
Fill out the form to download the content.