Sneak-peak: White-labeling and Version Control for Resellers
In anticipation of our upcoming Winter 2020 release, we are teasing a particularly exciting feature: white-labeling and version control for resellers.
Your company may currently manage a configurator on your website for a better customer visualization experience, but how can you expand that to your valued network of dealers and resellers?
Often, your partners are working with outdated sales brochures or confusing customers by jumping between your website and their own.
Our new white-labeling feature lets you grant all or certain resellers the ability to publish your product configurator directly on their website.
We understand that not all sales partners are created equal. With version control, you curate the configurator each affiliate displays, enabling you to appease different geographical offerings or product exclusivity on a per-dealer basis.
This ensures each reseller offers a configuration experience consistent with their depth of product knowledge, perhaps exposing more options for a technical or B2B reseller (right) and fewer options for partners offering a simplified experience for end-consumers (left).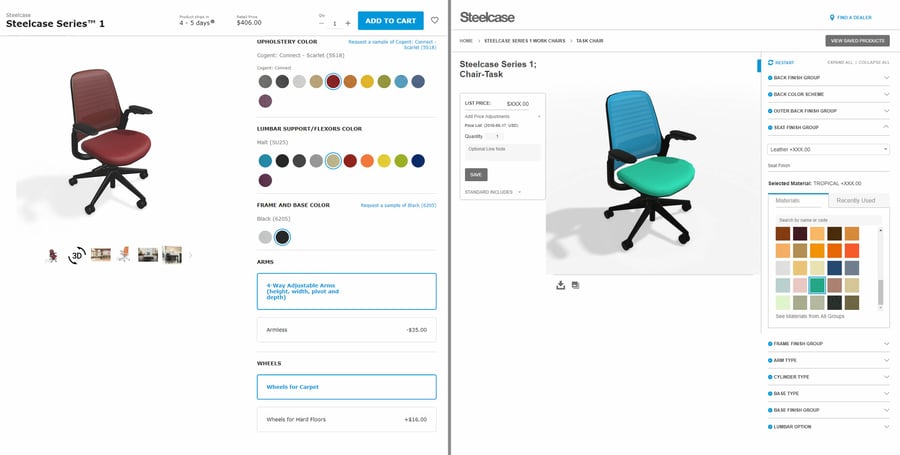 Notice how Steelcase offers two distinct versions of the same product configurator, despite both versions sharing a single library of 3D assets and materials.
White-labeling and version control incentivize your resellers to learn more about your product offering in order to take advantage of your visualization solution. The net benefit is an improved (and consolidated) customer experience across your sales channels, resulting in greater interest in your products.
Want to learn more? Reach out to your Customer Success Manager today!