Announcing Threekit's Advisory Board
The past year has been a transformative one for eCommerce and business sales organizations. COVID-19 has added an element of urgency for businesses grappling with how to get ahead in the swiftly evolving digital commerce landscape. When we talk to customers and prospects alike, they're asking a lot of the same questions: How do we better immerse our customers in our products online? How do we sell effectively when everyone is remote? How do we remove complexity from our process to focus on the things that really matter?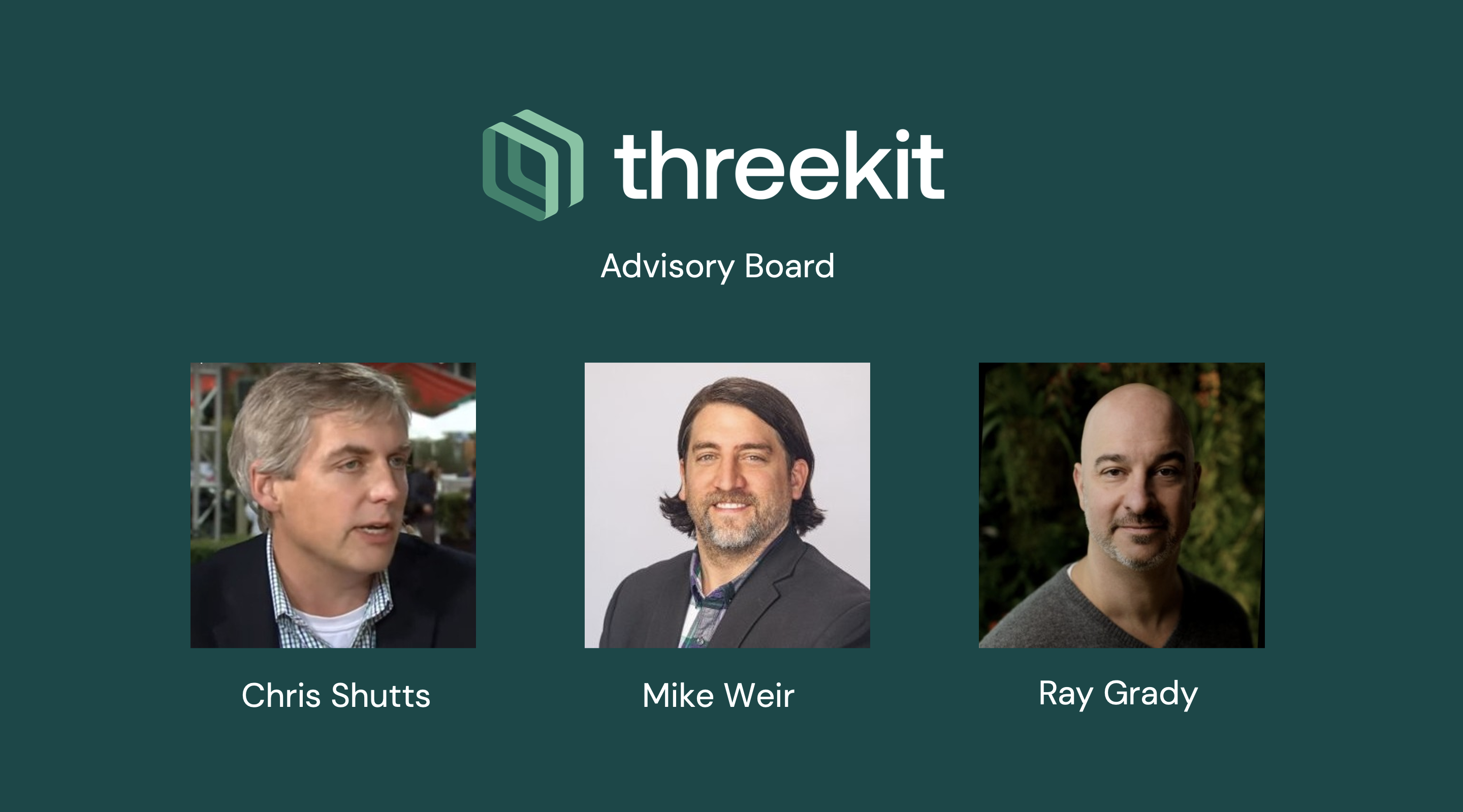 Here at Threekit, we're honored to be in a position to help customers solve these complicated challenges and create best-in-class immersive commerce experiences. And given this critical point in our company's journey, we're grateful to bring on a team of SaaS industry leaders to counsel the company on the path to reaching its innovation and growth goals.
With that, we're excited to introduce Threekit's Advisory Board::
Chris Shutts

recently retired from Oracle where he was Vice President of Development for CPQ Cloud, Contracts Cloud, and Subscription Cloud. Prior to this position, Chris was Cofounder of BigMachines Inc., a company Oracle acquired in 2013 with 415 employees. Before starting BigMachines, Chris was the Hydraulics Manufacturing Business Unit Manager for Case New Holland. He holds two mechanical design patents and has a bachelors and masters in Mechanical Engineering from MIT.

Mike Weir, a senior sales leader, has a dual background in Marketing & Sales Leadership roles across venture funded start-ups & Fortune 500 companies. In his current role, he is Chief Revenue Officer at G2 where he leads the global go-to-market strategy for Revenue, Customer Success and Partnerships. Previous to G2, Mike built the go-to-market for the Technology industry within LinkedIn Marketing Solutions' division. In both recent roles, Mike built teams that helped deliver world class marketing strategies and campaigns – branding, demand generation, customer advocacy, e-commerce and events – and empowered Sales professionals to prioritize their efforts with intent data signals.
Ray Grady,

President & CEO of Conexiom, brings more than 20 years of experience in scaling high-growth B2B organizations, and leads the company in designing and executing the Conexiom's vision, strategic growth plans and company operations. Ray came to Conexiom from Salesforce B2B Commerce, where he held the role of SVP, COO and GM. Previously, Grady was President and COO of CloudCraze, where he led the company through its 2018 acquisition by Salesforce. Grady's extensive experience also includes roles as SVP and GM of Acquia, one of the fastest-growing SaaS providers in the world, and the co-founder of Acquity Group, which went public in 2012 before being acquired by Accenture Interactive in 2013.
Chris, Mike and Ray all bring with them a wealth of experience that we'll benefit from immensely, starting today. Not only do they all have proven track records of guiding and scaling some of the leading SaaS companies, they share Threekit's vision of setting the standard for the next generation of commerce experiences while helping businesses run better.
We welcome them to the Threekit family and look forward to launching this business to even greater heights!