3D for Apparel: The J. Press eComm Experience
Product customization is one of the easiest and fastest growing trends in the online retail market. Not only is it the key to serving your customer base, it is essential for delivering a personalized customer experience to each segment of users, can drive customer loyalty, and has been shown to increase customer satisfaction.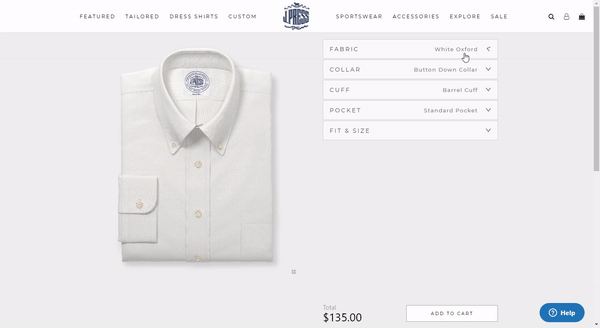 In fact, customers will pay a premium for customized items. One study found that they'll pay as much as 20% more, and that they'll also be more likely to recommend your business or brand if customization features are offered.
In footwear, customers who designed their own shoes gave companies a 50% higher Net Promoter ScoreSM (NPS®) than those who bought non-customized products from the same manufacturer. This score is a common way to measure customer loyalty and willingness to suggest the product to others, and/or share it with their social media network.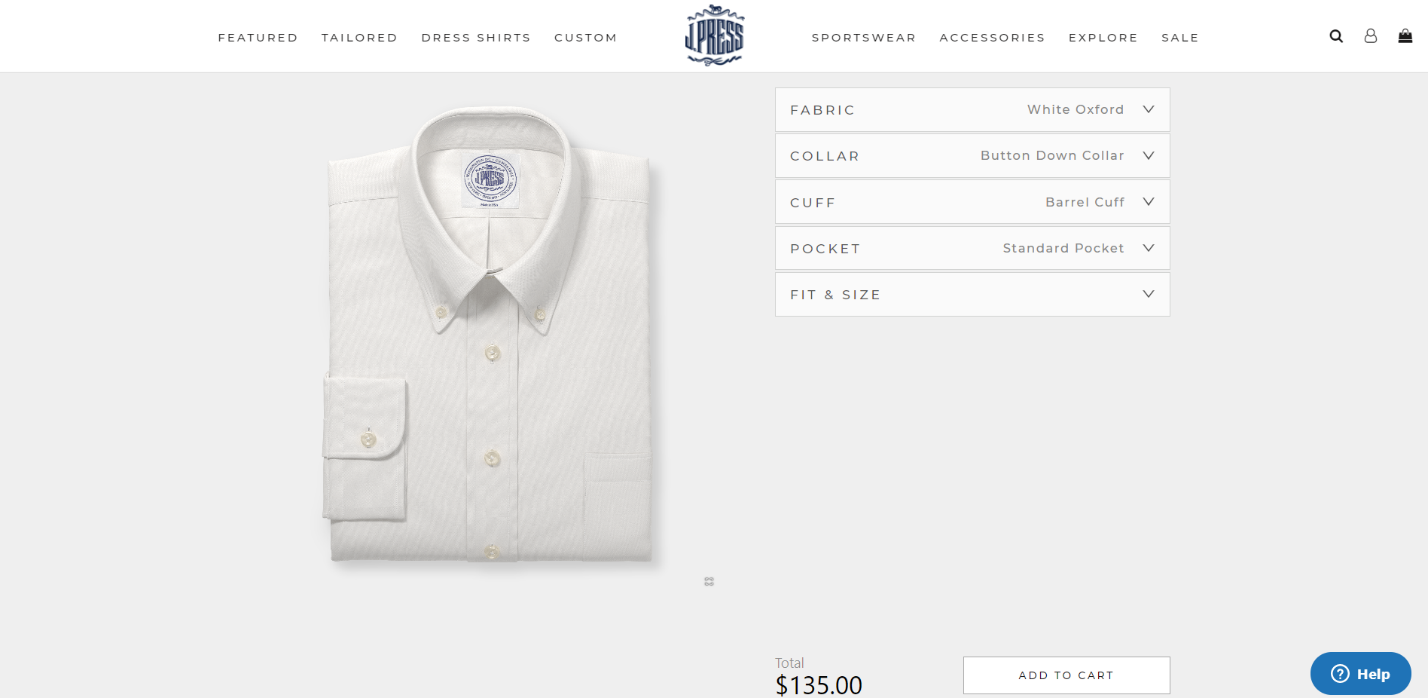 Jacobi Press' made-to-order shirt configurator offers a silhouette that fits everyone (jpressonline.com).
A recent survey indicates 26 percent of U.S. consumers have personalized a product, with apparel and footwear. As a Shopify merchant, trial and error on the customer's needs is a gamble you cannot afford. The ultimate Shopify 3D configurator can enable the customer to inform you exactly what they need. This is why innovative companies like Jacobi Press are adopting Threekit's Shopify Product Customizer. So, why is J. Press' shirt configurator the ultimate Shopify 3D configurator?
Background: Jacobi Press' Story
Jacobi Press (J. Press) has been around since 1908 and has consistently focused on fine craftsmanship to establish a silhouette that fits everyone. It then grew in popularity, receiving overwhelming support from Yale students, professors, and alumni. Still today, after over one-hundred years, J. Press remains a pillar of Ivy League style and has stayed true to the quality tailoring and craftsmanship of their historic past.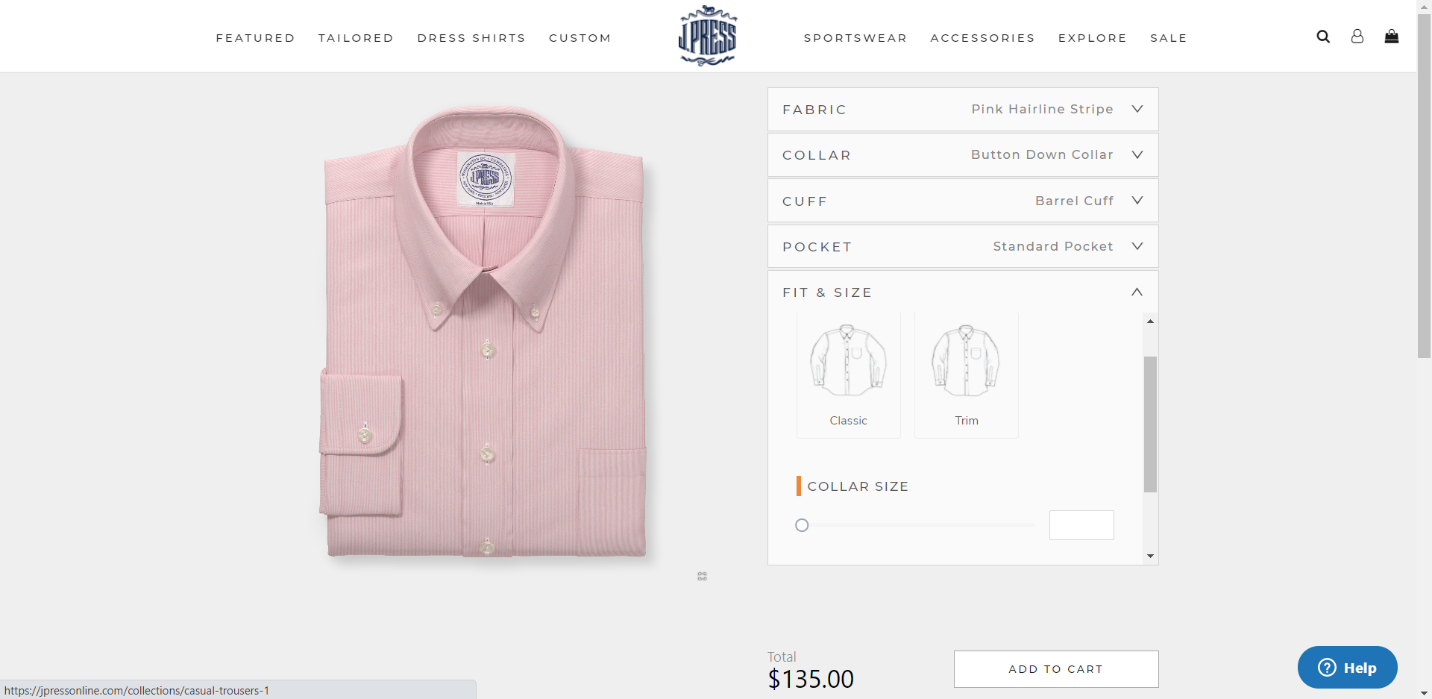 Jacobi Press' craftsmanship, combined with customization, wins customer loyalty (jpressonline.com).
When individuality and Ivy League style meet, the result is a shirt that is fully customizable to fit the personality and silhouette of its wearer. With its expansive history as a go-to clothier for discerning clients, J. Press realized the potential in providing made-to-order shirts that promote consumers' individuality and stands out from the crowd of me-too designs. To make this idea a reality, J. Press adopted the ultimate Shopify Product Customizer.
The Solution: How J. Press' Shirt Configurator Works
Threekit's product configurator for shoes and apparel allowed J. Press to create a high-quality 3D representation once, distribute it across multiple platforms and iterate off it for years to come. Designed by experienced visual effects software developers to be future-proof, the configurator provides real-time rendering of fully customizable shirts, including various combinations of fabrics, colors, collars, pockets, fits and sizes.
The configurator is also designed with zoom capabilities. This feature allows you to enlarge the shirt you've created to see its specific features, like the fabric, color, cut, details, stitching and more. With J.Press' 3D product configurator, you can customize the perfect shirt in five simple steps.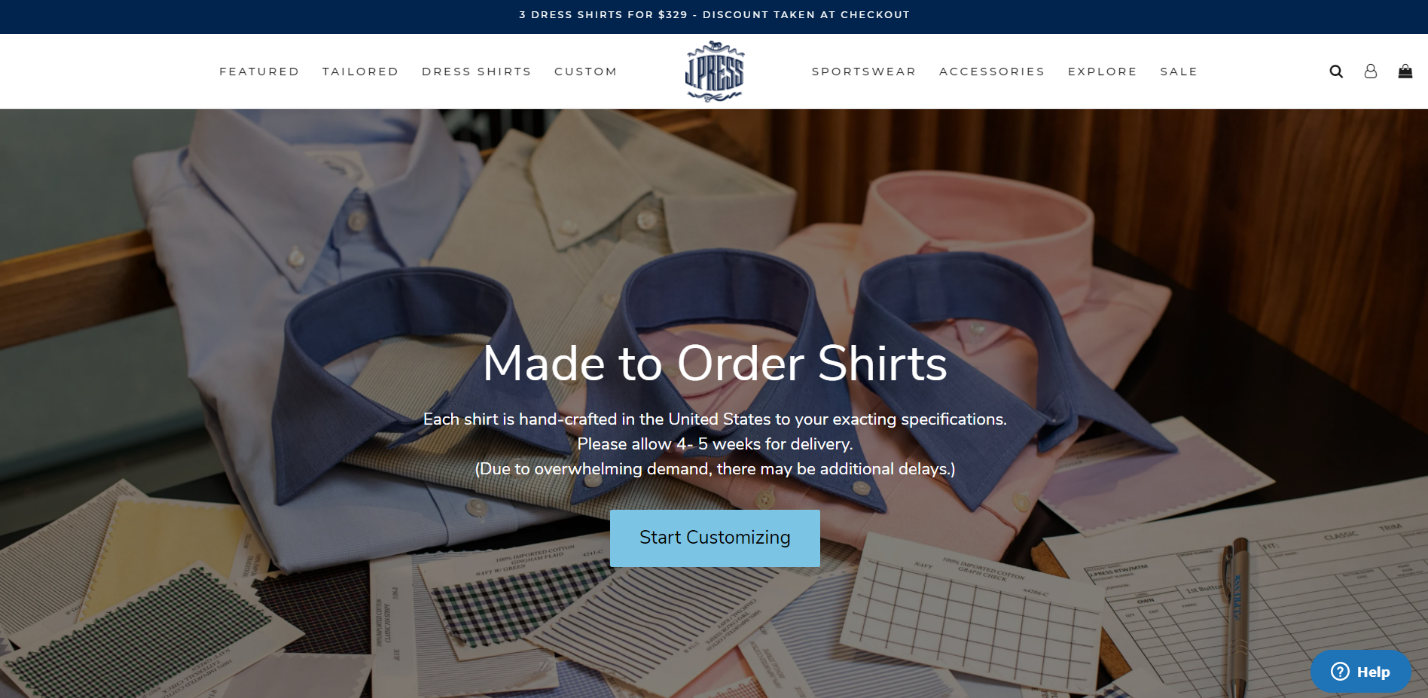 The starting page for customers to access the product configurator (jpressonline.com).
The customization process flows seamlessly from step 1 to step 5 by allowing you to build on what you've selected in the previous step.
Step 1: Choose a fabric.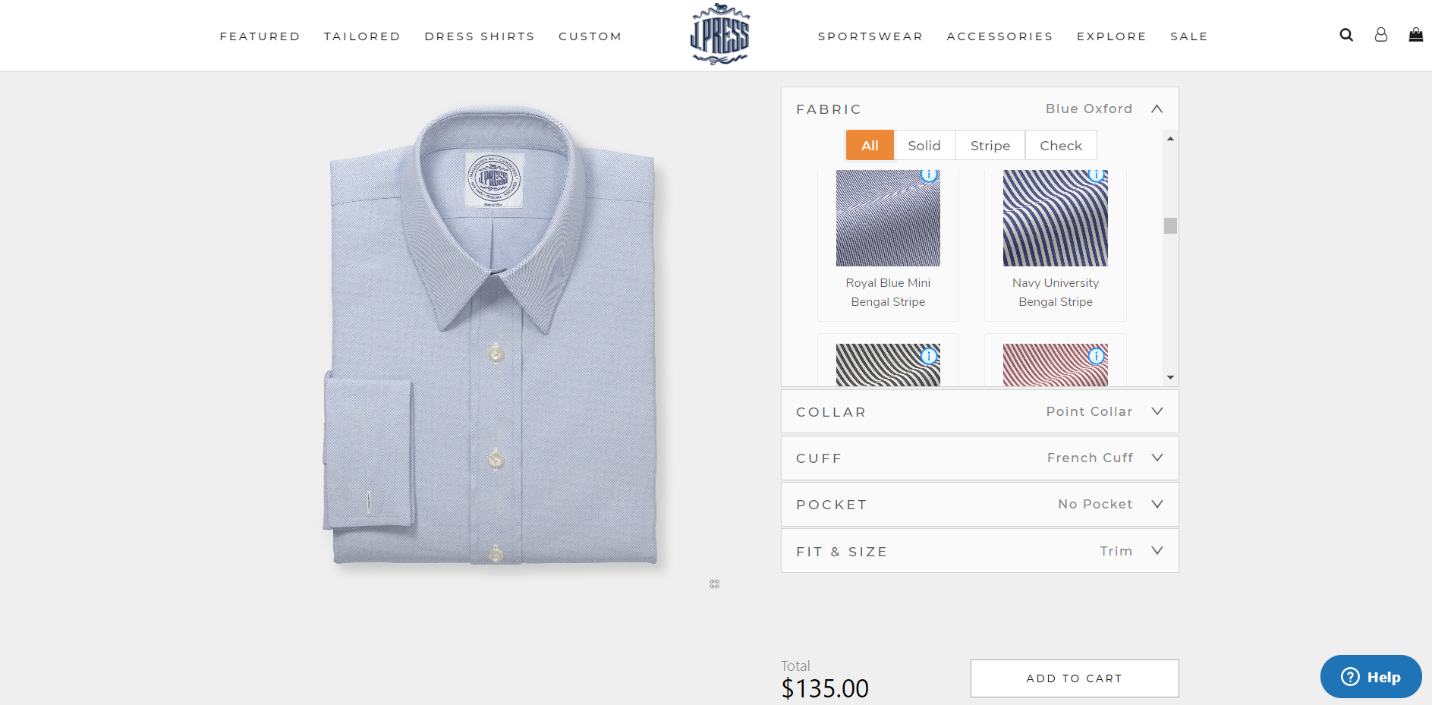 Step 1 of Jacobi Press' shirt configurator, to choose fabric color and pattern (jpressonline.com).
The first custom option is choosing the fabric. You can choose from solids, stripes, and checks, with over 89 possible combinations of colors and patterns—ranging from White Oxford, Light Blue Pinpoint, and Charcoal Classic Pinstripe to Navy University Bengal Stripe, Grey/Blue Multi-stripe, and Blue/Yellow Weekend Multi-plaid. Once you choose the color and pattern of the fabric, the configurator automatically takes you to step 2.
Step 2: Choose a collar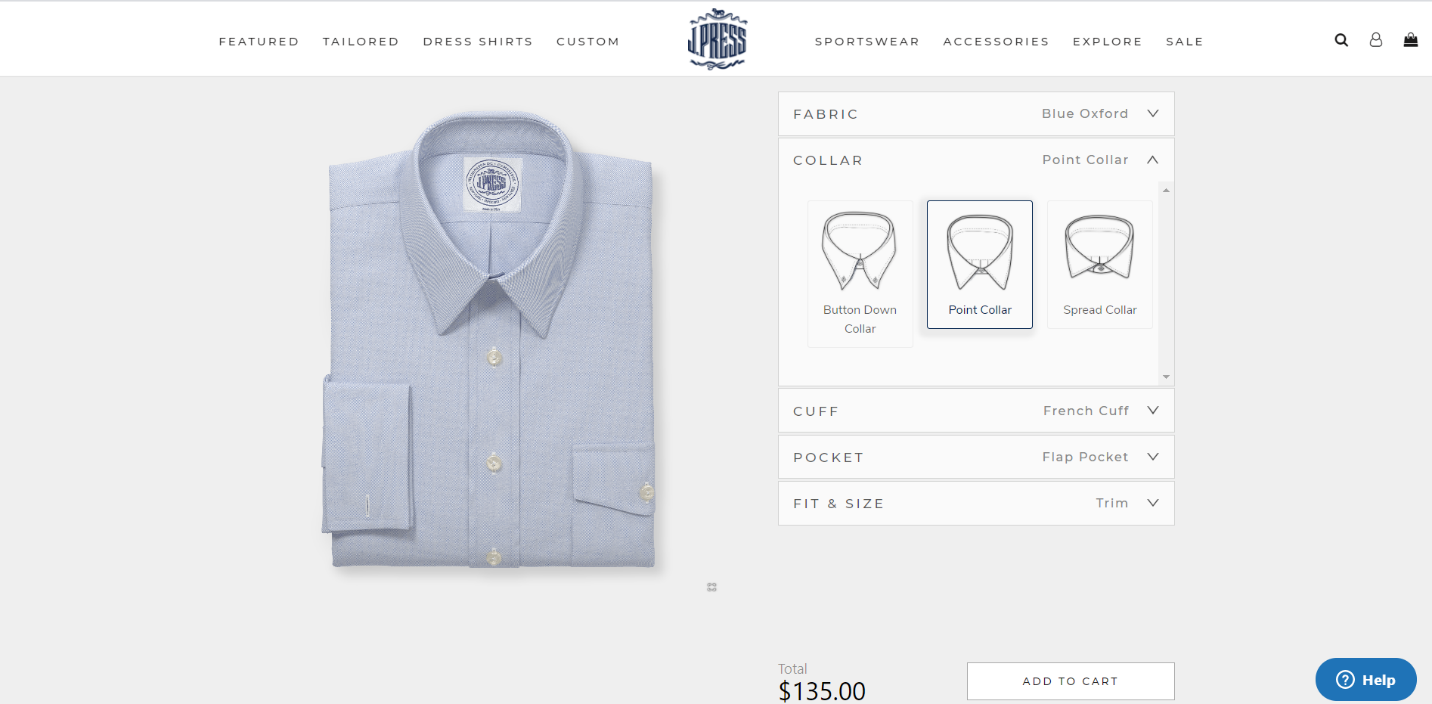 Step 2 of Jacobi Press' made-to-order shirt configurator, to choose collar details (jpressonline.com).
In the second step, customers can customize their shirt by choosing their style of collar out of three options. Those options are Button-Down Collar, Point Collar, and Spread Collar.
Step 3: Choose a cuff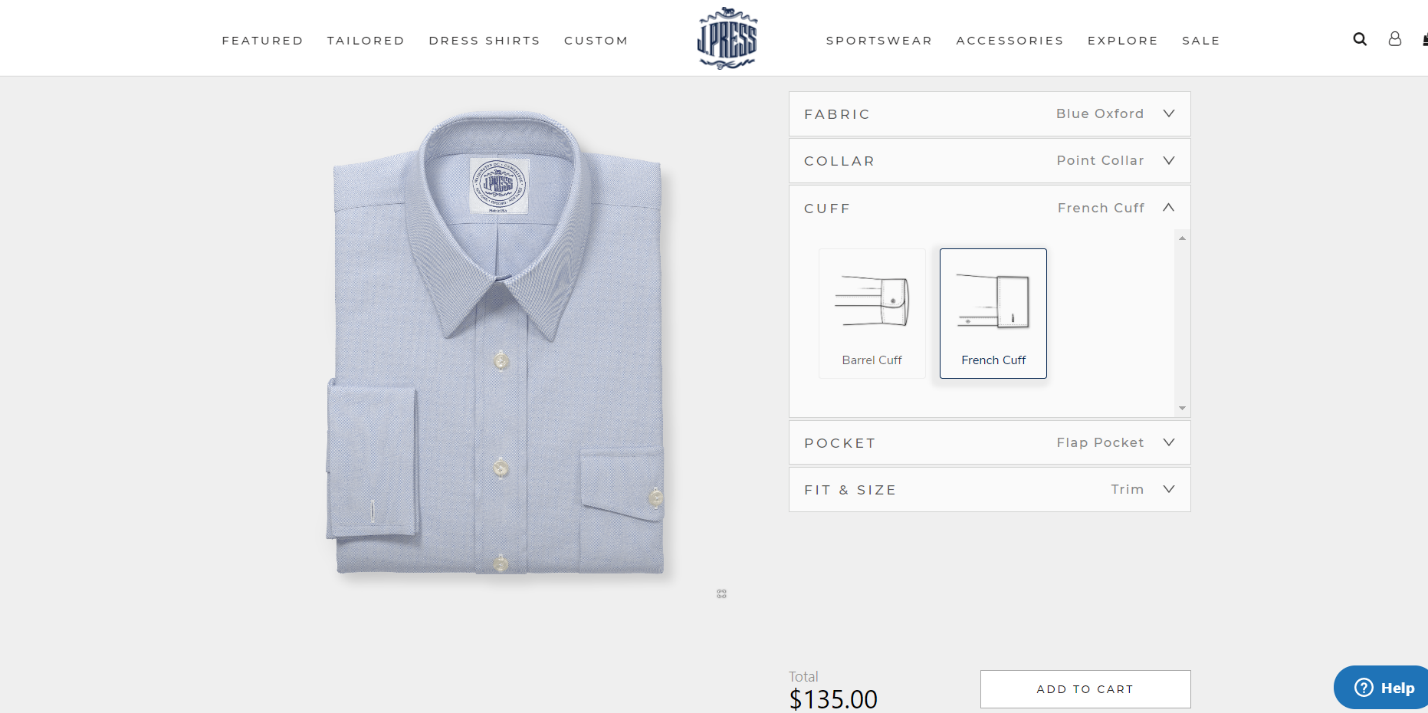 Step 3 of Jacobi Press' made-to-order shirt configurator, to choose cuff style (jpressonline.com).
Custom options in step 3 allow you to choose the type of cuff for your made-to-order shirt. You can choose from two styles of cuff, including Barrel Cuff and French Cuff.
Step 4: Choose pocket details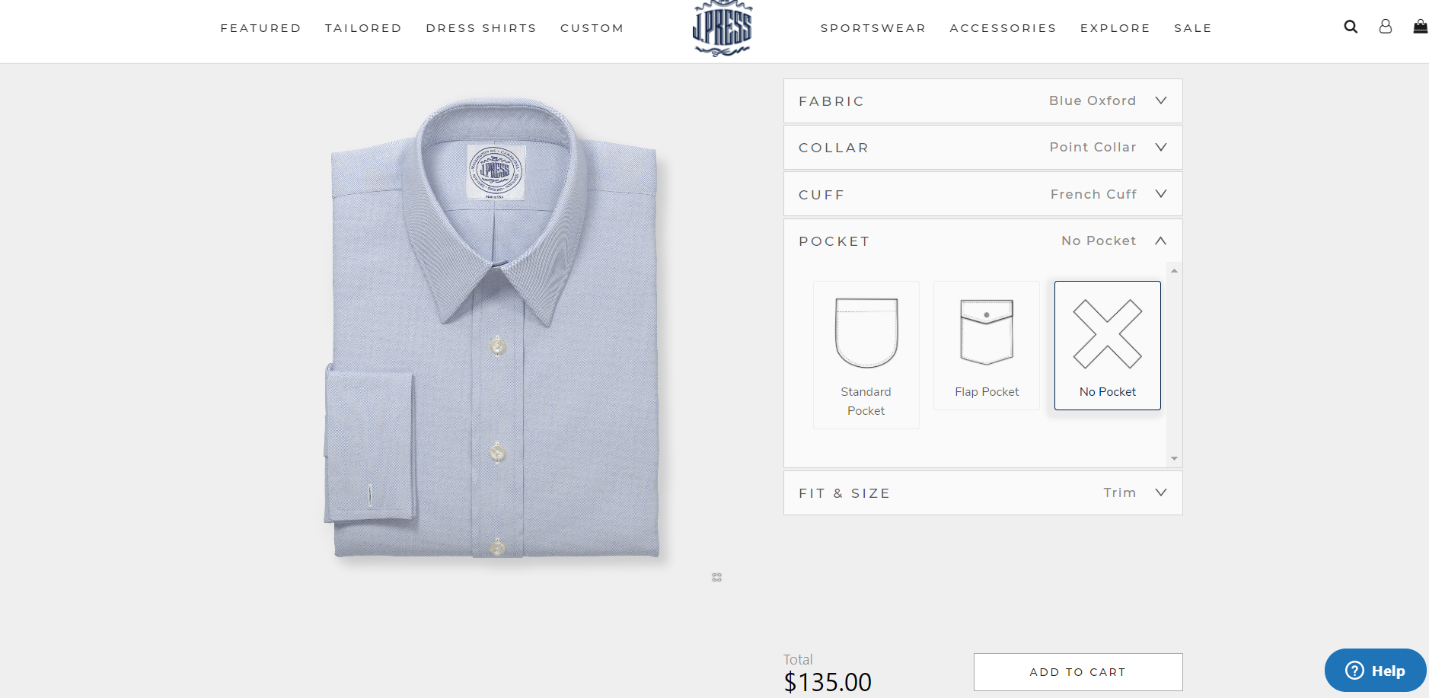 Step 4 of Jacobi Press' made-to-order shirt configurator, to choose pocket details (jpressonline.com).
For pocket details, J. Press offers three choices, including Standard Pocket, Flap Pocket, and No Pocket.
Step 5: Choose Fit and Size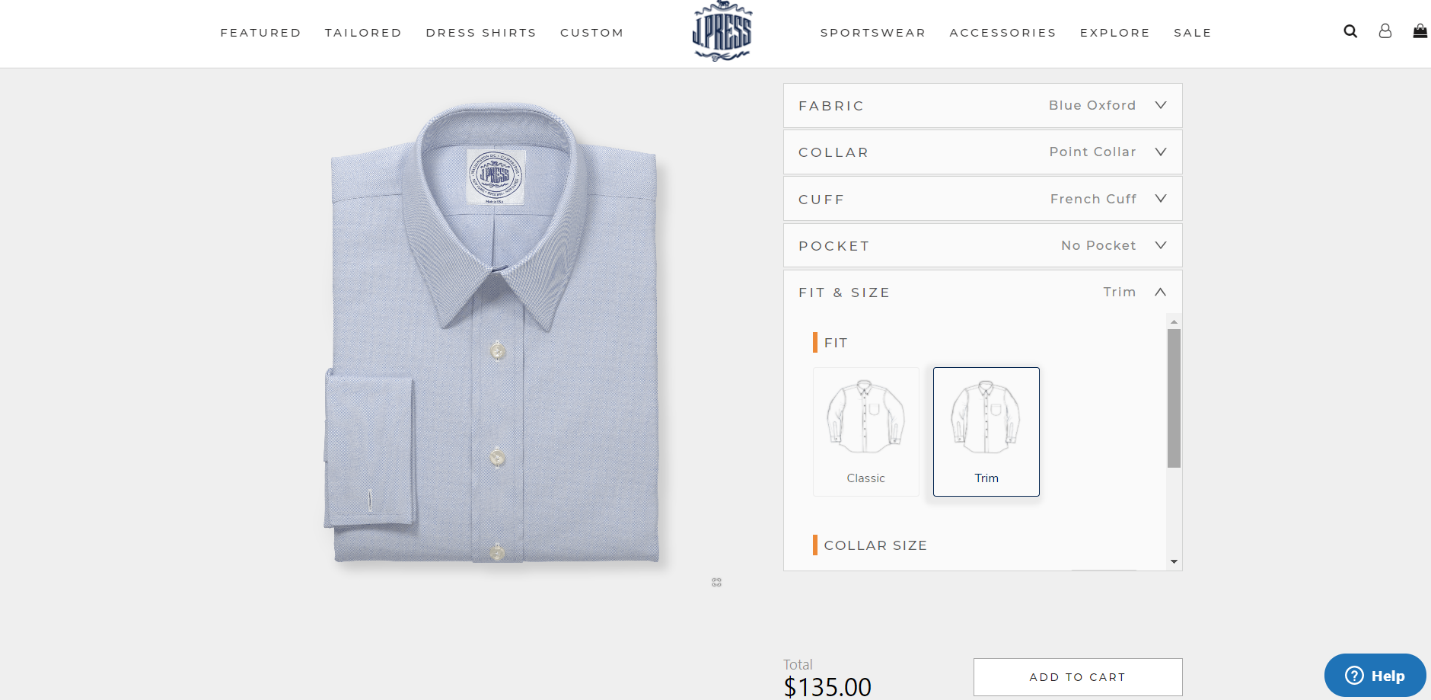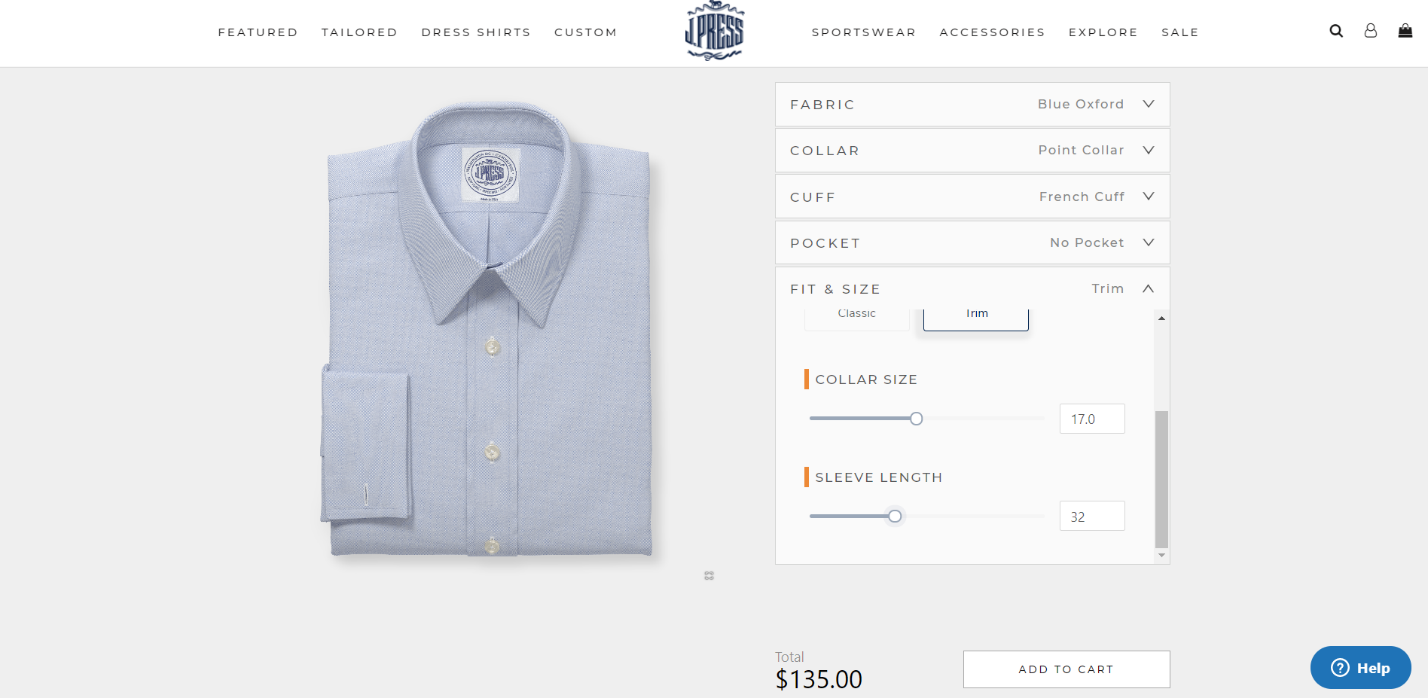 Step 5 of Jacobi Press' made-to-order shirt configurator, to choose fit and size (jpressonline.com).
The final step in J. Press' shirt configurator is choosing the fit and size of your made-to-order shirt. Customers are given the option of Classic fit or Trim fit. The sliding bars below then ask for the desired collar size (ranging from 14.5 to 20 inches) and sleeve length (ranging from 28 to 39 inches).
The Outcome: Why is J. Press' Customizer the Ultimate 3D Configurator?
The shirt customizer and its features enable customers to choose a shirt that is the exact color, pattern, fit and style they want, along with customizable details such as collar, cuff, and pocket. When it comes to online shopping, user experience can influence the customer even more than the quality of the product and the robustness of its features. For J. Press' shirt customizer to be truly the ultimate 3D configurator, it has to be easy to use and deliver an immersive shopping experience.