Today, shoes are right up there with designer purses as a subject of obsession for collectors. There is nothing more exhilarating than scoring a rare release...and the rarest of all are ones they customize themselves. But the desire to personalize a pair of shoes isn't confined to the collector circuit. As Jacob Metzger of the designer retailer, Grailed, notes,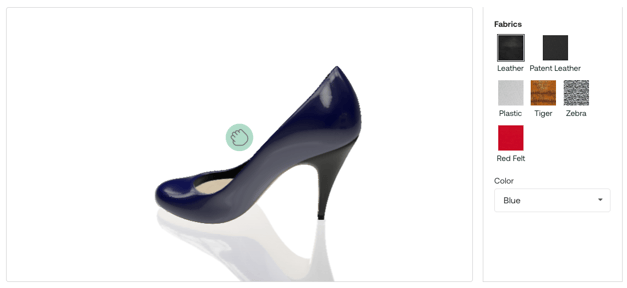 "I think personalization will continue to grow as a trend within the masses. Average consumers appreciate the ability to create their own unique colorways and models, especially as sneakers continue to grow in popularity."
Read on for examples of how 3D configurators can enable customization at scale for different kinds of shoes.
Contents
Interactive 3D Viewer for Nike Shoes
---
3D Customizer for High Heels
Have you ever been accused of owning too many shoes? You're not alone. Back in 2013, a Time poll found that American men own an average of 12 pairs, while women own an average of 27 pairs. While these numbers aren't particularly fresh, it's hard to imagine the rise in online shopping has decreased the number of shoes the average consumer has in their home.
Demo Our 3D Customizer for High Heels
Last year, online retailer Zappos generated more than a billion dollars in gross sales, of which 80 to 85 percent was shoes. The market for shoes – including high heels and dress shoes – is huge, but it's hard to replace the in-store experience for shoe shoppers who prefer to try their shoes on in person.
To provide your customers with the best possible online shopping experience when they're looking for high heel shoes, dress shoes, or sandals, use Threekit's interactive 3D product configurator to showcase your available inventory in 360 degrees.
Wow Shoppers with Previews of Customized High Heels and Dress Shoes Online
While there's no "right" product for 3D rendering, some products do look great in a 360 viewer. High heel shoes are beautiful objects, and shoppers appreciate the ability to inspect every detail online (not just the height of the heel!).
Threekit's interactive 3D product configurator allows shoppers to choose which material they'd like for the upper (leather, patent leather, or plastic) and then see exactly how that material looks on the product. From there, customers can select from a range of colors.
For those shopping for specific prints like tiger or zebra, it can be helpful to preview how that fabric and any patterns will lay on the shoe itself. And helping customers find what they want leads to conversions, whether that's in-store or online.
Showcase Your High Heel and Dress Shoe Inventory in 3D
US consumers spend nearly $30 billion each year in footwear and revenue tops $52 billion globally. Earlier this year, research firm IBISWorld published a prediction that online revenue from footwear sales will increase 6.3 percent year-over-year, reaching $19 billion by 2023.
In a market with so much opportunity, one of the challenges of marketing footwear online is that webpages are quickly cluttered with options, which can easily overwhelm online shoppers. Footwear is a dynamic category that can be hard to present, but customizable 3D renderings make shoe shopping easy (and fun) to navigate.
As the opportunity in this vertical grows, make the most of the space on your retail website reserved for product images with a 3D product configurator.
---
Interactive 3D Viewer for Nike Shoes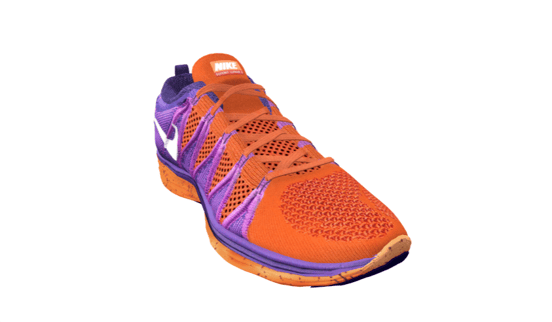 Sneaker culture touches just about everyone. From
sneakerheads
to athletes to those just looking for a comfortable walking shoe, the athletic shoe category draws in consumers of all ages and lifestyles from all over the world.
Shopping for sneakers is a highly visual experience: walking in to any Nike or Adidas store is a sensory treat for your eyes. Now, thanks to Threekit's 3D product configurator, shoppers can have that same visual immersion online and browse through a wealth of different styles to find the perfect sneaker.
A 3D Sneaker Model Gives Customers a 360 Degree Design View
Much of what makes sneakers such a beloved clothing purchase for many shoppers is their brilliant designs – and all of the elegant details that make up a high-quality shoe.
Demo Interactive 3D for Nike Shoes
Whether a customer is interested in a pair of sneakers for fashion, function, or both, they want a close-up view of the details: the different colorways, the fabric, the soles, the laces, and any customizable features. A 3D model lets them zoom in and out on these elements as they rotate the shoe to any angle.
According to recent market research, shoppers spend more time interacting with 3D imagery when looking at a product: 82 percent of page visitors activated the feature, and 95 percent preferred the 3D view to a video playback. Customers will choose a 360 degree view of a pair of sneakers over a static photo or video any day – it's the best way to fully appreciate their design.
Real-Time 3D Renderings Make Online Shopping for Sneakers More Fun
Shoppers want to have fun while they browse sneakers. Looking at all sorts of colors and styles should be an enjoyable activity by itself, especially if shoppers don't have something specific in mind to look for.
Research shows that high image quality builds trust among shoppers. When they trust that the visuals they interact with are realistic and capture every angle of a shoe, it's likely that they'll want to continue viewing different styles – and maybe save a different pair of sneakers for later.
Plus, a 3D model works best when a product is highly customizable, and that's often the case for athletic shoes. When shoppers have the option to add custom details to a sneaker and visualize them in real time, that's not only fun to play around with – but a great reason to add those shoes to their shopping cart.
---
Threekit is product visualization software that creates photorealistic images, interactive 3D and augmented reality experiences that help businesses sell more. To learn more, please schedule some time with one of our teammates.
Article Categories: 3D Configurator, interactive 3D, 3d customizer