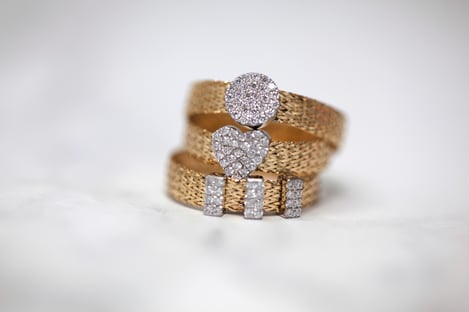 You'll rarely make a more personal purchase than a piece of jewelry. Whether a gift to yourself or someone you love, it needs to feel personal to whoever is going to be wearing it. With this added layer of purchase pressure, 3D configuration goes a long way in instilling buyer confidence, engagement, and ultimately, purchase. Here, we cover several examples of 3D configuration in jewelry.
Contents
3D Configurator for a Rolex Watch
3D Configurator for an Engagement Ring
3D Configurator for a Wedding Band
---
3D Configurator for a Rolex Watch
When folks are looking for a statement timepiece, they carefully consider the watch face and the band – every detail adds to the cumulative visual effect. But watch shopping online can be a challenge when customers only have a few still images to consider, especially if they're looking at a customizable Rolex Daytona watch for men.
Demo our 3D Configurator for a Rolex Watch
Preview a Customized Rolex Daytona Watch from Every Angle
The good news is that online retailers can now access the technology to show their customers exactly how a customizable luxury item looks from wherever they're shopping. Threekit's 3D product configurator allows shoppers to carefully examine the Rolex Daytona men's watch in a 360 viewer.
Because the 3D product configurator renders images in real time, customers can preview the customizable watch in whatever configuration they want to see, whenever they want to see it. The 3D product configurator can display all three available metal options (steel, gold, or both) in 360 degrees. It also allows shoppers to zoom in or out as they rotate the model, homing in on the minute details that make a Rolex watch a Rolex.
Improve Customer Confidence in Their Luxury Watch Purchase
The interactive 360 viewer also allows customers to preview personalizations like inscriptions from every angle. Providing a realistic rendering of the exact product a customer will receive boosts customer confidence and can help reduce cart abandons (i.e. increase conversions).
Unlike a CAD file that some jewelers might offer those hoping for a custom design, Threekit's interactive models show your customers a luxury watch that looks exactly like the one they'll receive after purchase. Research shows that consumers tend to spend more in stores than online, but online retailers may be able to reverse this trend by providing interactive 3D views of luxury items.
Personal timepieces are an investment that people don't take lightly: luxury watches can communicate a lot about someone's personal style across every outfit that they wear. One of the benefits of buying a luxury Rolex Daytona watch is knowing that every detail is perfectly crafted, and in Threekit's interactive 3D product configurator, your customers won't have to guess at what the watch will look on their wrist.
---
3D Configurator for an Engagement Ring
If you're selling engagement rings online, you're probably used to touting the many advantages (including saving up to 50 percent on the ticket price) to your customers. But it's also likely that there are engagement ring buyers whom you haven't yet convinced that online is the way to go. Enter the engagement ring 3D configurator.
By including a 3D product configurator on your engagement ring product pages, you give customers the opportunity to build and view their dream engagement ring in real time.
Demo our 3D Configurator for an Engagement Ring
Customize and View Engagement Rings in 360 Degrees
Engagement rings are often among the most personal and costliest purchases people make in their lives. Because of that, shoppers want two things: full control over what their ring will look like and the ability to see exactly what they're getting before they make the purchase.
Product configurators fulfill both of these desires. First, they let shoppers construct their perfect engagement ring, choosing their metal (yellow gold, rose gold, white gold, silver, platinum, etc.) and stone (diamond, emerald, ruby, sapphire, etc.).
Then, 3D configurators offer a full, 360-degree view of the ring. That's right: after configuring an engagement ring online, shoppers can spin it in every direction, zoom to see details, and then adjust anything that doesn't look exactly as they want it to.
Give Your Shoppers the Confidence to Buy Engagement Rings with a 3D Product Demo
One reason people may be reluctant to buy an engagement ring online is that traditional online shopping experiences don't let them see exactly what they're getting. And when a product arrives and doesn't meet a customer's expectations or the product description, 64.2 percent will return that product.
With a 3D product demo that lets shoppers not only configure the exact ring they want but also spin it a full 360 degrees to see it from every angle, you can give shoppers the confidence they need to click "buy" – even for expensive items like engagement rings and wedding bands.
What's more, by offering this immersive 3D experience, you're actually creating a better, more convenient, and more fun way to shop for engagement rings than the current online standard: still images and (at best) CAD renderings of custom designs.
By using a 3D demo and viewer to show customers exactly what they'll get, you're offering something that's more helpful than anything else that's available online or in person. When you're ready to delight your customers with the power of 360 imaging, check out Threekit's 3D product configurator.
---
3D Configurator for a Wedding Band
Savvy shoppers know they can save up to 50 percent by buying their wedding bands or engagement rings online, but it can be difficult for folks looking for these timeless pieces of jewelry to make a decision without having the product in hand.
To bolster consumer confidence and help move shoppers to purchase, online retailers can use Threekit's interactive 3D configurator. This technology allows shoppers to customize and personalize a rendering of the ring they're considering in real time, helping them preview their custom jewelry before purchase.
Demo our 3D Configurator for a Wedding Band
Personalize and Preview Wedding Rings in 3D
The 3D product configurator gives shoppers several options to tailor their wedding ring's design, size, and style to their needs. Customers can choose between silver, gold, and platinum before selecting a style. Whether someone wants a beveled wedding ring or a more classic design, it's easy to toggle between each of the options in the product configurator, which will update the digital rendering in real time.
Shoppers can also inspect how each element of the ring looks in different sizes by adjusting the width and height of the band. Of course, it can be helpful to see a 3D model of most products in 360 degrees, but for a custom item like a wedding band, this detailed preview is essential to building consumer confidence and confirming that they're getting the ring they'll want to wear for the rest of their life.
Enable Your Audience to View Custom Wedding Rings in 360 Degrees
As the market for online jewelry grows, customers are looking for the best deals and the best customer experience. Whether they'd like to see what an inscription would look like or they're just interested in confirming that the plain gold band they're about to order looks the way they've always dreamed it would, being able to see a photorealistic rendering goes miles beyond the CAD files most customers are used to.
Threekit's interactive product viewer gives shoppers access to their custom wedding ring in 360 degrees, which helps establish a clear expectation of what they'll receive. Getting this right is tremendously important, as 64.2 percent of online shoppers report that they make a return when "items don't match the description or expectations."
Exceeding customer expectations is the backbone of a great online shopping experience. The good news is that Threekit's 3D jewelry configurator and viewer delivers an exceptional experience to customers wherever they are, whenever they're ready to buy.
---
Threekit is product visualization software that creates photorealistic images, interactive 3D and augmented reality experiences that help businesses sell more. To learn more, please schedule some time with one of our teammates.
Article Categories: 3D Demo, 3D Configurator