Why use a Threekit 3D customizer?
See what a 3D customizer can do for your business.
Want to dig deep on product customization? We got you.
What do you want to know about?
What is a 3D product customizer?
A 3D customizer is a way to visualize different product options to help consumers get a real-time preview of what the completed product will look like. It's a tool that allows shoppers to see products in 3D, and rotate them 360 degrees. With a 3D customizer, shoppers can select different product options, including product color, size, etc., according to their preferences.
What are the benefits of 3D customizers?
3D customizers seek to replicate the in-person shopping experience to help retailers and eCommerce adapt to an increasingly virtual shopping experience. In addition to helping shoppers visualize their product in real-time and obtain a price quote, a 3D customizer helps shoppers manage expectations regarding shipping time for customized products, and streamlines the sales process, eliminating the need for in-person sales teams to drive purchases.
What is 3D customizer software?
3D customizer software is software that retailers and eCommerce can use on their websites to power 3D customization. In addition to our top-of-the-line software, Threekit provides professional services that help seamlessly set up businesses with all the product visualization capabilities they could want.
What is the difference between a 3D customizer and a 3D configurator?
A 3D customizer adds a level of personalization beyond that of a product configurator. A product configurator is a good choice when there are a few different variations in the product which can be selected by shoppers. Choosing options to design a product using a 3D configurator makes it easier for companies to sell without relying on an in-person sales team. A 3D customizer provides greater ability for shoppers to choose variations, and come up with a product that meets their own preferences, which is associated with greater customer satisfaction. Furthermore, people are willing to pay more for a custom product.
Can I see some examples of online 3D customizers?
How does a 3D customizer affect pricing options?
A product customizer can provide real-time pricing information in USD or the retailer's local currency. The price quote is provided instantly in the product customizer based on the different options selected by the buyer. This way, the 3D customizer can reduce the need for sales teams to provide a price quote.
How do I customize products on a Shopify store?
While online retailers once had to create customized options on eCommerce platforms like Shopify by adding in every variation by hand, there's now a better way. Online merchants on Shopify can add customization capabilities to their store with the Threekit 3D and AR Shopify app, which integrates with the Shopify platform to help merchants use 3D modeling technology for their site.
How do I customize products on Woocommerce?
Case Study

"Threekit's 3D configurator allowed us to show our products beautifully but also hand over the reigns to our shoppers and let them make each 'Sactional' their own. It's an awesome customer experience!"
- Shawn Nelson, Lovesac CEO
Lovesac chose Threekit to power their 3D customizer experience for their highly-configurable (and comfy) furniture. Now it's helping drive their traffic and close online sales.
A 3D customizer gives your customers the shopping experience they want.
When online shoppers can customize products, they buy more, pay more, and return less. Threekit's 3D customizer turns your eCommerce store into a virtual showroom experience.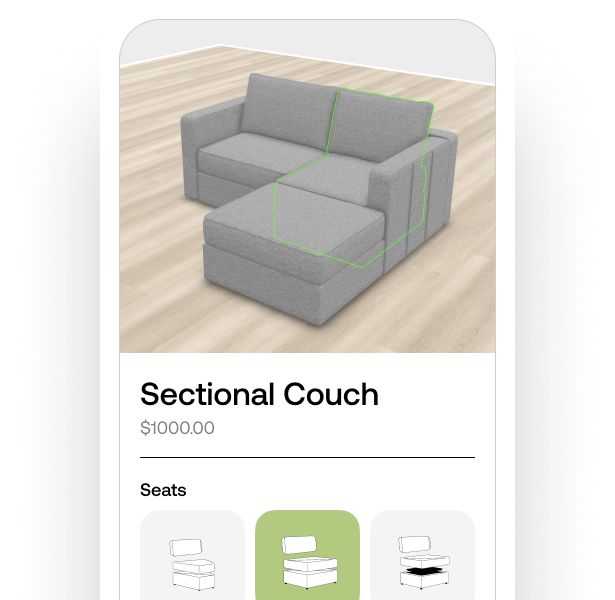 3D Customizer Solutions Built for You