PART 1:
BUYERS
BUYER FACT #1
A better customer experience is the most powerful force in eCommerce and a majority of buyers are now saying they want to see products in 3D and AR.
Despite the desire for novelty, the story for all buyers in 2021, both consumer and business, is the same it's been for a long time. People prize satisfying customer experiences. The brands that make transacting more convenient, earn more trust, and create more fun experience take the rewards.
A perfect example is the Amazon purchase you make, mostly because you know without a doubt it will arrive in one day. People pay a premium and are more loyal to the brands that make their lives easier.
Now, more than ever, a better customer experience means better visuals. According to eMarketer, in the last four years, shopper demands for eCommerce product images nearly tripled: in 2016 shoppers expected three images per product and in 2019 they expected eight.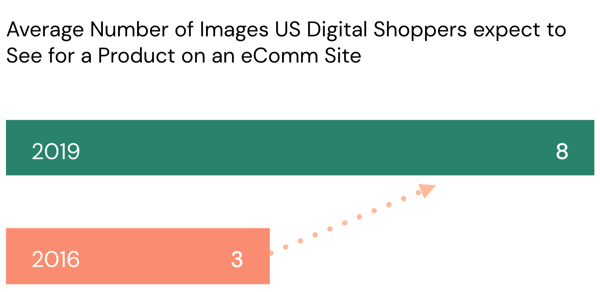 Robust image growth in the 2010's meant brands could get by with an increase in their photography budget to capture more pictures of higher quality. But shopper demands have risen once again.
According to a Harris Poll of 1,869 US adults, 60% are more likely to buy a product if it is shown in 3D or AR. Additionally, many online shoppers feel that it would help them make decisions with more confidence:
66% say they would be more interested in shopping on a website if it offered 3D and AR images.
42% say they would pay more for a product if they could see it in 3D and AR.